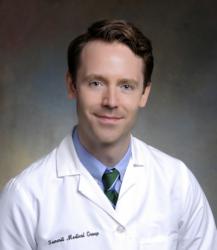 Berkeley Heights, NJ (PRWEB) August 23, 2012
Neurologist Garth Turner, M.D., has recently joined Summit Medical Group, New Jersey's largest private multispecialty physician practice. Dr. Turner's expertise includes general neurologic disorders such as headache (migraine), stroke, vertigo, dementia, multiple sclerosis, and movement disorders such as Parkinson's disease. He also diagnoses and manages patients with epilepsy and peripheral nerve disorders as well as muscle and neuromuscular transmission difficulties such as myasthenia gravis.
Dr. Turner earned his B.A. in linguistics and cognitive science summa cum laude at the State University of New York in Albany, and he earned his M.D. at New York University School of Medicine in New York City. After graduating, he completed his internship in internal medicine and his residency in neurology at New York University School of Medicine, where he was designated Chief Resident. Dr. Turner also completed his fellowship in neurophysiology at New York University School of Medicine. He is board certified in neurology.
Dr. Turner is the coauthor of articles and abstracts published in prestigious, peer-reviewed journals such as Oncogene, Genes and Development, and Journal of Patient Safety. He is a member of the American Academy of Neurology and American Association of Neuromuscular and Electrodiagnostic Medicine.
Dr. Turner joins Summit Medical Group neurologists Lisa Coohill, M.D., Komal Naik, D.O., and Eric Cohen, D.O., at Summit Medical Group's 1 Diamond Hill Road, Berkeley Heights campus.
ABOUT SUMMIT MEDICAL GROUP
Summit Medical Group (SMG) is the largest privately held multispecialty medical practice in New Jersey. SMG has pioneered information technology advances in health care with its early adoption of electronic health records and e-prescribing. With more than 270 highly qualified healthcare providers, it serves as a unique health care model for the state. SMG has an award-winning customer service program and NJBiz magazine has named it one of New Jersey's "Fifty Fastest Growing Companies". SMG treats more than 55,000 patients per month at its main campus in Berkeley Heights as well as its satellites in Berkeley Heights, Morristown, Millburn, Short Hills, Springfield, New Providence, Warren, and Westfield. As one of the East Coast's premier multispecialty groups, SMG has provided exceptional primary and specialty care since 1929.