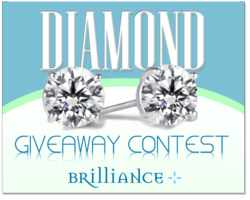 I simply can't wait to enter... Thank you Brilliance!
(PRWEB) August 22, 2012
As a way of giving back to both its loyal returning and future customers, Brilliance.com is pleased to announce the launch of the much-awaited contest that gives the chance for a lucky contestant to bring home a pair of Brilliance diamond studs retailing at $2,0755,187!
Brilliance.com is one of the most reputable online retailers of loose diamonds and other fine jewelry, and is only happy to put the sparkle in everyone's lives with high-quality, certified diamonds. Through the years, the company has provided a wide variety of diamond and jewelry needs with a customized, hands-on approach. For over two decades, Brilliance has built a reputation for being an honest, ethical reseller and expert in the diamond and jewelry business, striving to always put the customer's needs first.
Now, imagine certified diamond jewelry from Brilliance that comes free, with no other requirement but to simply enter and win!
The company recognizes the universal appeal of a diamond, and based on the tremendous Facebook response on the different styles which Brilliance incorporates into its diamond jewelry, everyone, young or old, single or married, would definitely appreciate the arrival of free classic diamond studs in their lives at some point.
One of the Facebook comments from an eager would-be contestant goes like this:
"All my life I have wished for my own diamond jewelry but can never afford them, and now Brilliance so generously gives away a 1-carat pair of them! I simply cannot wait to enter and win! Thank you, Brilliance!"
Brilliance grants this wish by giving away a pair of round cut diamond studs held in place by a white gold, four-prong setting. The studs have a carat total weight (CTW) of 1 carat. Teaser ads about the contest have been met with overwhelming response and the desire to know when the contest officially starts.
Contestants can enter to win on Facebook or on their website.
This unique contest is open to everyone, contestants do not even have to be past customers of Brilliance to be eligible to join. They can simply indicate their name and email address so the company can contact them in case they win the much sought-after diamond studs.
Everybody is invited and encouraged to participate in this exciting diamond sweepstakes!
Further information on the Brilliance diamond stud giveaway contest can be had by clicking on http://www.brilliance.com/diamond-contest .