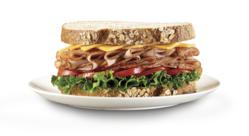 Sarasota, FL (PRWEB) August 22, 2012
Ask any kid and they'll tell you – not all sandwiches are created equal. This school year, put an end to lunch box monotony with a wide array of delicious and nutritious options from Boar's Head Brand®, a leading provider of premium delicatessen meats, cheeses and condiments made with only the finest ingredients.
Start lunchtime planning with a wholesome Boar's Head Ovengold® Turkey Breast sandwich. Crust or no crust, mayo or mustard, this tasty, all-white turkey breast makes an A+ sandwich every time. Happy kid, happy mom, because Boar's Head Ovengold is the highest quality turkey breast, roasted to perfection and certified heart-healthy. And like all Boar's Head Brand deli meats and cheeses, Ovengold is gluten-free and contains no preservatives or fillers, artificial colors or flavors.
Try these easy brown bagging tips to satisfy any student's hungry appetite:

Shape It: Use cookie cutters to create sandwich shapes sure to delight any child. Switch the shapes up each day to keep kids excited about what they'll find next.
Be a Healthy Role Model: The best way to teach good eating habits to kids is to lead by example. Try packing lunches together the night before and explain why each item makes for a great lunch.
Follow-up: Be sure to ask kids if they liked the lunch packed for them that day. Use their feedback to determine which lunches they like best and repeat those in the future to keep kids happy and make lunch-planning less stressful.
Boar's Head products are available at select supermarkets, gourmet stores and fine delicatessens nationwide. For more information and additional recipes, please visit boarshead.com or find us on Pinterest at http://www.pinterest.com/boarshead.
About Boar's Head
Founded in 1905, Boar's Head has upheld a commitment to unwavering standards for quality for over a century, refusing to take shortcuts that compromise the integrity of its products for the sake of convenience or economy. What started with just a few products has grown to over 500, ranging from premium delicatessen meats, cheeses and condiments to an array of Italian and Old World Delicacies and foodservice items. All Boar's Head meats, cheeses and condiments contain no fillers, by-products, artificial colors or flavors, gluten or trans fat. For more information, visit boarshead.com or facebook.com/boarshead.