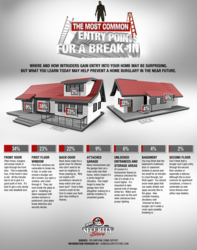 With information collected from the FBI's Uniform Crime Report, this particular infographic offers useful facts about how burglars most often gain access to a home.
Riverside, CA (PRWEB) August 20, 2012
Continuing with the monthly infographic series highlighting the facts about burglary in America, Home Security Store has released their third infographic entitled, The Most Common Entry Points For a Break-In. Home Security Store's Marketing Manager, Annie Blanco, explains that, "With information collected from the FBI's Uniform Crime Report, this particular infographic offers useful facts about how burglars most often gain access to a home. Combined with sobering data previously shared in our monthly infographic series, Home Security Store is committed to continuing our effort to empower the public with factual, real-life data on burglary crimes in the United States."
Infographic designer Justin Marini believes that by delivering information in a compact visual presentation, infographics allow readers to quickly obtain useful facts. According to Marini and Blanco, who both worked together to organize the infographic's research and design, this latest installment in the series reveals that the most common entry point for a burglar is a home's front door. With 34% of break-ins originating through this access point, Blanco stresses that old doors are particularly vulnerable to being forcibly opened by either pushing or kicking. The ecommerce company recommends replacing weak doors with sturdier ones or replacing front door locks with deadbolt locks in order to lessen the likelihood of an intruder gaining access through this most common entry point.
With regards to his motivation in designing Home Security Store's monthly infographic series, Marini shares, "My main motivation was public safety. Much of these statistics are unknown to the general public so much so that there's a lot of general misconceptions that can lead to a false sense of security. I also wanted to present this information in a way that can reach the most people. Infographics are a great vehicle for these types of information since they are visually stimulating and can easily be shared throughout the web. Most people have found the information within our infographic serie s to be surprising and have actually used it to make better decision in ensuring their safety and security."
With regards to this latest infographic, Blanco points out that the second most common entry point for burglars is a first-floor window. "According to the FBI's Uniform Crime Report, as many as 23% of home burglaries involve first-story window break-ins." She goes on to discuss how burglars will often cut through a window screen and even break the window's glass when necessary. Through this infographic, Blanco suggests that homeowners invest in glass break sensors as well as window alarm sensors in order to reduce access via these points.
Other common entry points detailed in the latest Home Security Store infographic include:
● Back Doors - Following closely behind first-floor windows, The Most Common Entry Points For a Break-In infographic illustrates that in 22% of all home burglaries in America thieves gained access to a home through a back door entrance.
● Garages - 9% of all burglaries begin with a thief's entrance through a garage that is attached to a targeted house. On behalf of Home Security Store, Blanco warns against leaving these access points unlocked or open while maintaining that such translates as an open invitation to burglars.
● Other Unlocked Entrances - Quoting statistics from the FBI's Uniform Crime Report, Blanco maintains that storage areas and other unlocked entrances provide access to a house in as many as 6% of all home burglaries nationwide. Through this latest infographic, Marini and Blanco urge homeowners to remember to securely lock entrances like these in order to reduce burglary rates overall.
As with the previous two infographics in this series, The Most Common Entry Points For a Break-In has also been featured on multiple blogs via posts focused on educating homeowners about criminal behaviors. Attracting attention across the blogosphere, the infographic has served to spark several thoughtful conversations about home security. Many blog visitors have even expressed surprise at the fact that the majority of home break-ins happen during daylight hours and that thieves enter a home through a front door.
In light of the data shared, bloggers who have written about the infographic, such as Kim Litchford of Resourceful Blogger, have also spoken of installing door alarms and security lighting in order to avoid being victimized by a burglar. In her blog post about the infographic, Litchford goes on to mention that Home Security Store also offers a number of other security devices, such as motion detectors and driveway alarms, designed to deter burglars regardless of their access point.
The Most Common Entry Points For a Break-In infographic is the third in an ongoing series of infographics giving official statistics about burglary crimes in America. Previous infographics offered by Home Security Store include Odds of Burglary in America and Characteristics Of a Burglar. Website owners and bloggers can feature copies of the infographic on their sites by contacting Home Security Store through their website.
About Home Security Store, Inc.
Home Security Store is the premiere online ecommerce website specializing in home security, including: affordable DIY wireless and hardwired security systems, security camera systems, fire alarm systems, spy equipment, survival gear, and more. The company brings together highly-trained, professional technicians and a state-of-the-art product line to provide the most comprehensive home security source found online. The company offers FREE and FAST shipping, plus FREE tech support. For more go to http://www.homesecuritystore.com