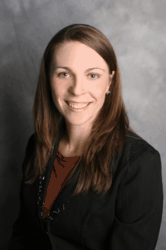 We are very excited about having Karen join our HR Services team and helping expand our reach in the Denver market.
Denver, CO (PRWEB) August 21, 2012
vcfo, a leading professional services firm offering financial, recruiting and human resource solutions, announced they are expanding their vhr service offerings in the Denver market. To support this expansion Karen Drobish has joined the Denver firm as a Senior Human Resources Consultant. In this role, Karen will work with vcfo clients throughout the Denver area to help them manage all areas of human resources, including: regulatory compliance, strategic planning, company culture initiatives, policies, payroll, workforce planning, job descriptions, compensation programs, benefit programs, training and HRIS implementations.
Karen has more than nine years of experience in Human Resources, and with broad industry experience across small and large companies, Karen enjoys partnering with organizations to understand how to best utilize their human capital. Karen has her Senior Professional in Human Resources (SPHR) Certification and is a National Society of HR Member (SHRM). She received a BS degree in Industrial and Labor Relations from Cornell University.
"We are very excited about having Karen join our HR Services team and helping expand our reach in the Denver market. Offering HR services along with our finance, accounting and recruiting solutions in the Denver market will enhance our clients' customized service needs to meet their business objectives. Clients will benefit from Karen's expertise, execution and broad background in Human Resources," commented Liz Hocker, vcfo's Director of HR Services.
Ms. Drobish added, "Human resource management has the opportunity to add real business value to any organization. I enjoy examining the wide range of challenges organizations face and determining how HR can help transform those challenges into resolutions."
About vcfo
vhr is a division of vcfo that provides human resource services. vcfo is a professional services firm that offers a customized team model to assist companies with finance, recruiting and human resources needs. vcfo uses a unique approach to create an optimal, flexible team of highly trained vcfo employees to address your particular requirements. Not only do you get the right level of resource, but you pay only for the time you need it. vcfo has supported more than 2,000 clients nationwide with offices in Austin, Colorado Springs, Dallas, Denver, Houston and Seattle. For more information, please visit http://www.vcfo.com.