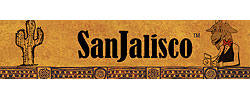 San Francisco, CA (PRWEB) August 20, 2012
SanJalisco Mexican Restaurant, a family-owned Mexican restaurant in San Francisco that is known for its authentic homemade Mexican cuisine, highlights that they serve Birria on Fridays, Saturdays, and Sundays. The offering of Birria is yet another step that the restaurant has taken to offer its guests the distinctive flavors and dishes of Jalisco.
The restaurant's newly customized weekend menu allows guests to enjoy the award winning Mexican Pozole on Friday, Saturday and Sunday as well as Birria, a traditional Mexican stew unique to the Jalisco region. In addition, traditional Jalisco-style Menudo is offered on Saturdays and Sundays.
Birria, a main dish made with goat meat, has the consistency of stew. A tasty, popular dish in Mexico, Birria is artfully seasoned with peppers, vinegar, spices, cloves and oregano. At SanJalisco Mexican Restaurant, Birria is homemade from a traditional Jalisco recipe and comes with a generous serving of hand made fresh corn tortillas. SanJalisco has a tortilla maker on staff who is experienced in making traditional corn tortillas to order, so they are served fresh and warm with every meal.
"There were a lot of unique items on the menu like Birria (goat stew) which shows the authenticity of the restaurant," said Cherylynn N. from San Francisco.
Birria is part of other traditional items on the menu, like Menudo and the award winning Pozole, for a well rounded presentation of authentic dishes from the Jalisco region. Besides Birria, Menudo and their award winning Pozole, SanJalisco Mexican Restaurant's other homemade dishes include enchiladas, chilaquiles, mole, chiles rellenos, carnitas, caldo de res (beef soup), and many other Jalisco inspired dishes.
About the company:
SanJalisco Mexican Restaurant is the destination place in San Francisco for quality authentic Mexican food. They offer dine in, take out, and catering services and accept reservations for large parties and events. Their wait staff is always friendly and their low prices and authentic regional style recipes will keep their customers returning for more. For more information visit their website at http://www.sanjalisco.com.