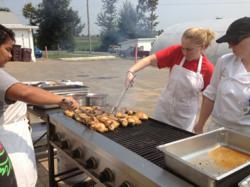 Hershey, PA (PRWEB) August 20, 2012
Students put a spotlight on the benefits of experiential learning while enjoying the fruits of their labor at Milton Hershey School. Eight weeks of hands-on learning in Agriculture and Environmental Sciences culminated in a farm-to-table feast. At least three dozen students participated in the experience and were able to showcase their work with the event which marked the conclusion of the Agriculture and Environmental Education summer internship.
Milton Hershey School students grew, raised, and prepared the food and learned firsthand how the food cycle works. Fresh peppers, tomatoes, onions, watermelon, cantaloupes, and corn were grown and harvested by students. Free range chickens were also raised and cared for by the students. The meal was capped off with ice-cream made fresh by students working in the Spartan Ice Cream Center.
As part of the AEE summer program, students gain valuable experience in horticulture, environmental science, animal care, and community outreach. Students must apply for the internships and the process is competitive. "Students learn skill sets to move forward," explains AEE Director Crystal Huff. " They learn the importance of physical labor. They learn to work as a team and to communicate. They can also make mistakes and the instructors use those mistakes as a teaching tool."
In addition to gaining experience working with animals, students were also involved in community outreach as well as selling the produce which they grew. Field trips to farms, animal rescue centers, and work in state parks was also part of the curriculum. Felicia Cook, who is about to begin her junior year, said the summer experience helped her in many ways. "It's a learning process. I'm going back and forth between careers. This will help."
Throughout the summer months, students sold fresh produce at the School's Project Market. "I was responsible for vegetables like corn, peppers, green beans. I did it for the work experience, working as a cashier in the market," said Rafael Moronta. "I learned from the experience more about fruits and vegetables – things I didn't know. For example, the ways we develop foods. You can use seeds to create different varieties of fruit."
One of the main goals of the internship program and the farm-to-table lunch was to help students realize how the food system works. "With any student, it often seems there is a disconnect between what they consume and where it comes from. One of the biggest things they get from AEE besides the career skills is that they get to be a part of the food system. This is the culmination of that," explains Nate McKelvie who is an Assistant Instructional Advisor of the Environmental Center.
In addition to the food which was prepared and served, students also made the biodiesel fuel used to operate the equipment which transported the food to the site of the farm to table feast. "We always talk about sustainable agriculture," said Tony Brown, an AEE academic coordinator. "We are trying to get them to experience that – both the land use and the economic part of that."
Milton Hershey School is a cost-free, private, coeducational home and school for children from families of low income, limited resources, and social need. The School is funded by a trust established by Milton S. Hershey and his wife Catherine. Milton Hershey School offers a positive, structured home life year-round and an excellent pre-kindergarten through 12th grade education. The MHS vision focuses on building character and providing children with the skills necessary to be successful in all aspects of life.