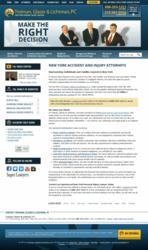 If you need legal help, make the right decision — Trolman, Glaser & Lichtman
New York, NY (PRWEB) August 22, 2012
People watch more than three billion videos on YouTube every month. Facebook boasts more than 955 million users, many who post pictures and share videos.
So the saying "A picture is worth a thousand words" is just as applicable today as it was before people began uploading more than 300 million pictures each day on Facebook.
Videos take it a step further and allow the personality of a person — even a law firm — to come through. When in the market for an attorney or a law firm, images and video are invaluable in giving people a unique perspective, simply by putting a face to the name.
The personal injury lawyers and support staff at Trolman, Glaser & Lichtman in New York City want to help injured people make educated decisions when it comes to choosing an attorney.
On their website, users can find helpful accident resources, as well as new videos to give potential clients a better understanding about what to expect when they come to Trolman, Glaser & Lichtman with their questions.
View the firm's videos to learn more about how the experienced lawyers and support staff of Trolman, Glaser & Lichtman can help after someone has been:

Injured during routine surgery or because of medical negligence
Abused or neglected while living in a nursing home
Injured after slipping and falling on the street or in a negligently maintained building
Harmed by the side effects of a dangerous prescription drug or defective medical device
If you or a loved one has been injured by the carelessness of another, you are not alone. The New York injury attorneys at Trolman, Glaser & Lichtman can help. Since 1970, the attorneys of Trolman, Glaser & Lichtman have represented thousands of injured New Yorkers.
The firm handles personal injury cases throughout New York City and the five boroughs, including cases involving construction accidents, motor vehicle accidents, nursing home negligence, elder abuse, slip-and-falls, medical malpractice, defective medical devices and dangerous drugs.
Make the right decision. To schedule a free consultation with the New York City personal injury lawyers of Trolman, Glaser & Lichtman, call 212-561-5036 or visit the firm's website at http://www.tgllaw.com.