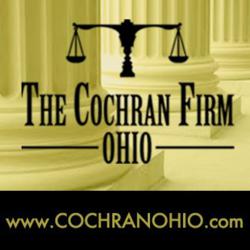 The Cochran Firm - Ohio, a leading full service, law firm handling personal injury cases throughout all of Ohio. For a FREE consultation call (513) 381-4878 or visit www.cochranohio.com
Cincinnati, Ohio (PRWEB) August 22, 2012
The Cochran Firm - Ohio, a leading full service, personal injury law firm with offices in Cincinnati and Dayton that represents accident victims throughout Ohio, has filed a premises liability lawsuit on behalf of a Cincinnati child who was severely injured after falling from a balcony at an apartment building owned by Downtown Property Management Inc. The complaint, which was filed in Hamilton County Common Pleas Court, seeks damages on behalf of the child and his legal custodian. (Case No. A1205503)
According to the complaint, the alleged victim was standing on the second-floor balcony of a unit within the premises located at 3257 Gilbert Avenue, Cincinnati, Ohio, when he went to lean against the balcony railing. In doing so, he fell through to the ground below, landing on concrete. As a result of his fall, the complaint alleges the child has suffered, among other things, severe head injuries; great pain and suffering, both physical and emotional; and loss of ability to perform usual functions. The lawsuit further alleges the victim's injuries will cause further pain and suffering and loss of ability to perform usual functions in the future.
The lawsuit charges that the balcony railing was missing a bar where the child fell, which constituted a dangerous and hazardous condition, and was the direct and proximate cause of his fall. The complaint asserts that DPMI knew or reasonably should have known of the existence of the defects in the balcony railing, and the dangerous and hazardous conditions that resulted from said defect. The complaint further alleges DPMI willfully, wantonly, and recklessly failed to repair the defect or warn Plaintiffs of the defect.
Statistics from the American Academy of Pediatrics indicate that approximately 140 children under the age of 15 die every year as a result of falls from balconies, windows and roofs. Three million children require emergency department care for fall-related injuries. According to The Cochran-Firm – Ohio, business owners, landowners, and landlords have a duty to safeguard dangerous balconies and ledges to prevent children from being injured or killed. [pediatrics.aappublications.org/content/107/5/1188.abstract]
The Cochran Firm – Ohio offers free legal consultations to accident victims throughout Ohio, including those involving falls from balconies, slip and falls, and other premises liability claims. If you or someone you love was injured due to a negligent landlord or other property owner, it is vital you retain a skilled accident attorney to ensure your legal rights are protected. If you are seeking personal, dedicated and aggressive legal representation in the wake of a serious accident, please contact The Cochran Firm today by visiting cochranohio.com, or call (513) 381-HURT.
About The Cochran Firm - Ohio
The Cochran Firm - Ohio, is a leading full service, personal injury law firm with offices in Cincinnati and Dayton that handles personal injury cases throughout all of Ohio. Founded over 40 years ago by famed attorney, Johnnie L. Cochran, Jr., The Cochran Firm - Ohio, has established itself as one of the premier personal injury law firms in the United States and has been recognized for delivering successful results to their clients across a broad range of claims stemming from car / auto accidents, personal injury, wrongful death, medical malpractice, nursing home abuse, premises liability, and product liability lawsuits. For over 40 years, The Cochran Firm - Ohio's team of highly experienced lawyers have continually fought for justice for all its clients. If you've been injured call Ohio's leading full service law firm "The Cochran Firm - Ohio" today at 513-381-HURT.
Contact:
The Cochran Firm - Ohio
Call 513-381-HURT
The Cochran Firm – Ohio, Cincinnati
119 E. Court St. Suite 102
Cincinnati, OH 45202
Phone: 513-381-HURT
The Cochran Firm – Ohio, Dayton
130 West Second Street, Suite 1600
Dayton, Ohio 45402
Phone: 513-381-HURT