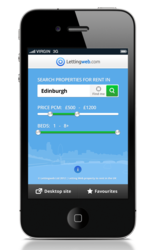 Lettingweb have launched another new channel for property hunters to use, using technology to help the rental market.
(PRWEB UK) 21 August 2012
Almost a fifth of enquiries on Lettingweb this year have arrived via a mobile platform, and these levels are set to rise as mobile internet usage is set to overtake desktop usage by 2014. This will mean that more and more people want a free, intuitive mobile application to future-proof the service that Lettingweb offer.
There are already more mobile devices than people in the UK, and an increasing number of iPhones and iPads. It's estimated that 52% of UK mobile phone users now have a smartphone, and tablet sales are growing by 378% year-on-year. This presents another reason why its vital for a forward-thinking business like Lettingweb to remain on the cutting edge when it comes to making services accessible to mobile devices.
With the new app, users in locations such as Edinburgh, Glasgow and Aberdeen will be able to access content while on the move or commuting, as well as from desktop computers. The new app is specifically designed to push conversions from mobile users, so that agents can maximise the number of enquiries that they receive as a result of their listing on Lettingweb.com.
Steve Tigar, managing director of Lettingweb, offered these views on the new mobile site and iOS app:
"Here at Lettingweb, using technology to push the private property rental market is at the heart of everything we do. That is why we launched the first iPhone app for rental properties in Scotland, and that's why we're so excited about the launch of the brand new offering for Apple users."
There's also an app for Android users on the horizon, meaning that the vast majority of the mobile marketplace will have access to Lettingweb's services – resulting in an optimised user experience for tenants, and more enquiries for agents.
New technology is constantly changing and evolving the world we live in, the way we do business, and the way we run our day-to-day lives. Lettingweb make keeping up with and responding to these changes an essential part of the way that they do business.