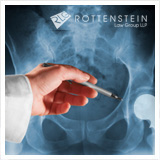 New York, NY (PRWEB) August 20, 2012
The lawyers of the Rottenstein Law Group are eagerly awaiting confirmation of an early report that the DePuy ASR case that was scheduled to be the first tried in the United States—Rundle, et al. v. Precision Orthopaedics, Inc. and DePuy Orthopaedics, Inc., case number A-11-636272-C in the Eighth Judicial District Court of the State of Nevada—has settled out of court. Unfortunately for the thousands who were looking forward to the December trial of the case, the terms of the settlement are confidential.
The next scheduled ASR trial is Jackson, et al. v. Chesapeake Orthopaedics, Inc. and DePuy Orthopaedics, Inc., case number CAL10-32147, set for trial in the Circuit Court of Prince George's County, Maryland in January 2013.
Rochelle Rottenstein, principal of the Rottenstein Law Group, implores anyone with a friend or relative who has received a dangerous hip implant or other medical device to reach out to that person and recommend that he or she consult a physician immediately and then speak to a qualified personal injury lawyer. (Attorney advertising. Prior results do not guarantee a similar outcome.)
About THE ROTTENSTEIN LAW GROUP
The Rottenstein Law Group is a New York-based law firm that represents clients nationwide in mass tort actions. The firm was founded by Rochelle Rottenstein, who has more than two decades of experience as a lawyer, to represent clients in consumer product injury, mass tort, and class action lawsuits in a compassionate manner.
Contact:
The Rottenstein Law Group, LLP
Rochelle Rottenstein, Esq.
321 W. 44th Street
Suite 511
New York NY 10036
(212) 933-9500 (office phone)
(212) 933-9980 (facsimile)
rochelle (at) rotlaw (dot) com
http://www.rotlaw.com