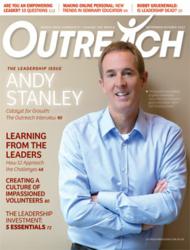 Colorado Springs, CO (PRWEB) August 21, 2012
In a frank interview in the latest issue of Outreach magazine, renowned pastor, author and leader Andy Stanley relates personal stories about his life as a preacher's kid and discusses the idea and vision that produced North Point Community Church—one of the most successful churches in America.
"Basically, we wanted to remove every unnecessary obstacle to a person understanding the Gospel," Stanley says in the interview, featured in the September/October 2012 issue of Outreach, available now. "That was pretty much it. … That really was what drove us in those early days. And honestly, it drives us today."
Stanley launched North Point Community Church in 1995 in Alpharetta, Ga. Today, the church welcomes more than 30,000 attendees—40 percent of whom say they were unchurched before coming to North Point—making it one of the largest churches in the United States.
The church is the home of the Drive Conference for church leaders each year, and Stanley is a regular, featured speaker at Catalyst conferences. He also is the author of several books, including his most recent, Deep and Wide: Creating Churches Unchurched People Love to Attend (Zondervan), which releases in late September.
The son of Charles Stanley, an author and senior pastor of First Baptist Church of Atlanta, Andy Stanley relates in the Outreach interview seeing some of the challenges his father faced when he arrived at First Baptist and how the Stanley family prayed about whether to stay at the church or leave.
"As an eighth-grader, it instilled in me that you do the right thing, and you trust God with the consequences. Period," Andy Stanley says in the interview. "It's just that simple."
Andy Stanley would later become the youth pastor at First Baptist, an experience that fueled the ministry experimentation and environment that ultimately gave rise to North Point.
Articulating the church's vision and imparting it to others involves more than speaking about it, Andy Stanley says.
"It's one thing to do a vision-casting talk," Stanley says in the interview. "It's another thing to build a celebration around those points of vision that an organization thinks are the most important. We've been very, very consistent about that."
Based in Colorado Springs, CO, Outreach magazine offers the ideas, insights and stories of today's outreach-oriented, Bible-based churches. Founded in January 2003 by church communications company Outreach, Inc., Outreach is an award-winning, bimonthly periodical for church leadership. Each year, Outreach publishes the Outreach 100, a special issue in September that features the 100 Largest and Fastest-Growing Churches in America; the Small Church issue (July/August); and the Outreach Resources of the Year (March/April). Outreach is available by subscription. For more information, visit OutreachMagazine.com.