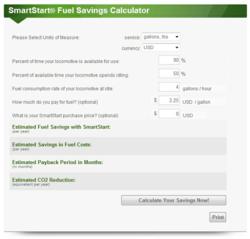 One Class 1 Railroad has saved 264,225 gallons of fuel on just one locomotive!
Minneapolis, MN (PRWEB) August 22, 2012
Since 1991, SmartStart AESS Systems have been helping reduce the railroad's fuel expense and impact on the environment with dramatic fuel savings (millions of gallons). For example, a Class 1 Railroad has saved 264,225 gallons of fuel on one locomotive.
ZTR now offers a SmartStart Fuel Savings Calculator that allows you to input a variety of variable to see how much you would save in fuel costs and emission reductions. Users can choose gallons or liters, US, Canadian or Euro currency, the percentage of time the locomotive is available for use, the amount of time spent idling, fuel consumption, cost per gallon and more.
With just one click you can see how much a SmartStart AESS system will save and calculate the ROI.
ZTR offers solutions to improve the efficiency and operational performance of equipment which enables our customers to become more profitable. For more information visit http://www.ztr.com, e-mail railinfo(at)ztr(dot)com, or call 1-952-233-4340.
About ZTR Control Systems
Since 1987, ZTR Control Systems has been providing intelligent equipment management systems for railway and industrial applications. Our integrated Locomotive Control System Solutions improve the performance of your existing locomotive fleet at only a fraction of the cost of buying new locomotives. Our Intelligent Starting Technology saves you fuel, reduces emissions, and reduces starting problems.
# # #