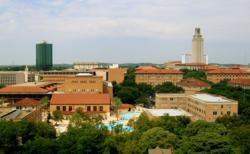 We want to make our help and services available to the next generation and those who are teaching them.
Austin, TX (PRWEB) August 21, 2012
For Reilly Realtors, the beginning of fall is a bit more important than it is to other real estate companies. After all, the company is located in Austin, Texas, a city known for its live music and the Texas state capitol. But in addition to this, Austin is widely known for being home to the world famous University of Texas. So while many cities across the nation are gearing up for a slight bump in the population, Austin is bracing itself for the return of more than 50,000 students. And while some of these students will be living in dorms, the reality is that approximately 44,000 of the 50,000 longhorns live off campus. It goes without saying that finding a place to live can be a bit of a challenge.
Attending one of the top ranked universities in the world is hard enough as it is. But adding to it the stress and time that it takes to find the right place to live can make finding a home in Austin a bit overwhelming without professional help. In response, Reilly Realtors decided to do something about the annual migration that often causes unneeded stress. To help cope with the process of moving and finding the right fit, Reilly Realtors is now offering a 10% rebate on commissions earned from transactions involving UT students, faculty and staff that buy, sell or lease a home with one of their agents.
"Many of our agents and staff are 'Texas Exes,' so it makes sense that we would give back to a school that many of them are loyal to," says Michael Reilly.
The special discount has already been processed through UT's Human Resources department. As of August 8, 2012, the website of the UT Employee Discount Program has added Reilly Realtors to it's list of local businesses that offer academic discounts. For those interested in the rebate, you can find out more about it here: UT Discount.
Reilly Realtors is familiar with how emotionally exhaustive a new move can be. In fact, the company recently moved into a new office themselves: Reilly Realtors Opens New Office
"We know finding the right property can be stressful, no matter what stage of life you're in. We want to make our help and services available to the next generation and those who are teaching them," says Reilly.
For those who are students or faculty of UT satellite campuses, you're in luck as well. Reilly Realtors has contacted other UT branches and has arranged similar discount programs with their respective human resources departments as well. As of now, both UT Arlington and UT San Antonio faculty, staff and students can enjoy similar benefits. UT Arlington students & faculty can click here to learn more: UT Arlington Discount. Those at UT San Antonio can find their specific details here: UT San Antonio Discount.
The company is reaching out to other colleges in the Austin area.
"We have contacted Concordia University, Austin Community College and St. Edwards University and are in the process of securing similar discounts to students and faculty all across the Austin area," says Andrew Hill, who oversees the company's internet development.
Reilly Realtors is excited to serve the students and faculty of the colleges and universities they are now partnering with. As they continue to reach out to other schools, one can expect to see continued excellence and great service from the "Experts in Austin Real Estate."
About Reilly Realtors, LLC
Reilly Realtors, LLC was formed in 2006 by Michael and Shae Reilly, and focuses primarily on residential home sales in Austin and the surrounding areas. The brokerage is made up of 15 top producing agents with an average of 5 years experience and is on track to close $60,000,000 in residential sales for 2012. Reilly REALTORS operates the extremely popular website http://www.austinhomelistings.com, which allows the public to search virtually all Austin homes for sale with an easy to use map-based interface using data from the Austin MLS.
Michael Reilly, Owner
Reilly Realtors
512-600-1800