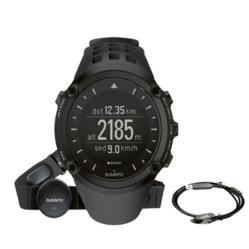 The functionality of this watch for everything outdoors is just phenomenal and it is still our favorite GPS watch for 2012
Bozeman, MT (PRWEB) August 21, 2012
Suunto Ambit, the GPS watch of the year for 2012 according to Heart Rate Watch Company, but it has been out of stock all summer. Finally, as of August 20th, the watch is back in stock and available for sale.
"This watch was hot as a pistol in May and June but then it ran out of stock, so we know there is some pent up demand for the unit", says Rusty Squire, President of Heart Rate Watch Company.
"I've got one on my wrist right now and our lead blog tester and ultra-athlete John Yarington just loves his Ambit".
SUUNTO FIRMWARE UPGRADE
"Suunto just issued a firmware upgrade for the Suunto Ambit that adds a Find Back feature that helps return you to your starting point with a combination of way points and track points", says Squire. He adds, "The functionality of this watch for everything outdoors is just phenomenal and it is still our favorite GPS watch for 2012, but we haven't tested the new Garmin fenix yet, or the new Polar RC3 so we will see where those two watches take us this fall".
AMBIT ARRIVES EARLY
The Suunto Ambit was scheduled for September 2012 shipment to dealers but they arrived at the Heart Rate Watch Company on August 20th. "We are filling back orders today and can take new orders as well", says Squire.
The Suunto Ambit is built to last in a rugged steel case and offers a barometric altimeter, barometer, 3-D compass, heart rate, speed and distance through GPS and super fast satellite and way point acquisition. "This watch is ideal for exploring, hunting, ultra-sports, skiing, cycling, mountaineering and so much more", says Squire.
SPECIAL MILITARY DISCOUNT
The Heart Rate Watch Company offers a special 10% discount for all retired and active US military personnel. "Military personnel can call our national toll-free line at 866-586-7129 and give us their military information and we give them a coupon code for the discount", says Squire. He adds, "It is our way of saying thanks to our men and women in uniform".