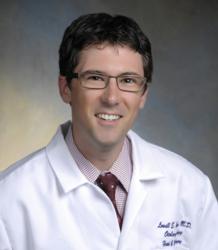 Berkeley Heights, NJ (PRWEB) August 29, 2012
Laryngologist Lowell E. Gurey, M.D., has joined Summit Medical Group, New Jersey's largest private multispecialty physician group. Dr. Gurey has expertise in diagnosing and treating diseases affecting the voice and swallowing function.
Dr. Gurey earned his BA in biology at the State University of New York in Binghamton. Before entering medical school, Dr. Gurey studied at the Hebrew University Rothberg International School in Jerusalem, Israel. After earning his MD at the University of Medicine and Dentistry of New Jersey-New Jersey Medical School in Newark, he completed his internship in general surgery and his residency in otolaryngology at Albany Medical Center in Albany, New York. He completed his fellowship in laryngology/neurolaryngology at St. Luke's-Roosevelt Hospital in New York City.
A sought-after speaker, Dr. Gurey has delivered local, regional, and national invited presentations on a range of topics in his field. His research interests have most recently been devoted to the treatment of laryngeal manifestations of neurologic disease such as spasmodic dyphonia and essential voice tremor. He is a member of the American Academy of Otolaryngology-Head and Neck Surgery.
ABOUT SUMMIT MEDICAL GROUP
Summit Medical Group (SMG) is the largest privately held multispecialty medical practice in New Jersey. SMG has pioneered information technology advances in health care with its early adoption of electronic health records and e-prescribing. With more than 270 highly qualified healthcare providers, it is one of the most unique health care models in the state. SMG has an award-winning customer service program and NJBiz magazine has named it one of New Jersey's "Fifty Fastest Growing Companies". SMG treats more than 55,000 patients per month at its main campus in Berkeley Heights as well as its satellites in Bayonne, Berkeley Heights, Morristown, Millburn, Short Hills, Springfield, New Providence, Warren, Westfield, and West Orange. As one of the East Coast's premier multispecialty groups, SMG has provided exceptional primary and specialty care since 1929.
# # #