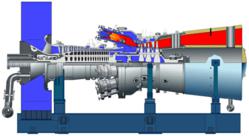 We're excited to further expand our services by equipping our product selection with solutions that cannot be found elsewhere.
Simi Valley, California (PRWEB) August 21, 2012
Wamar Power (Wamar), a leading global provider of power generation solutions, announced that in addition to their existing list of services and systems offerings, the group now offers engine replacements and installations of new Hitachi gas turbines, generators and auxiliary systems for gas turbine generation facilities.
As an alternative to overhauling and zero houring turbines/generators, Wamar clients can now take advantage of letting the OEM-independent provider install new state-of-the-art Hitachi models for heavy duty frames within existing budget. Wamar has the total capabilities to turnkey Hitachi's most popular line of H15/H25 gas turbines, as well as the H80 model in applicable regions.
With the new Hitachi gas turbine support, Wamar adds another reliable service to their existing list of solutions for clients looking to improve their power generation capabilities – an accomplishment that President and CEO of Wamar International, Nabil Barakat, believes will launch the company's power generation services to a new level.
"We're excited to further expand our services by equipping our product selection with solutions that cannot be found elsewhere," said Barakat. "Establishing this relationship with Hitachi allows us to provide a truly unique opportunity to our clients across the globe."
Hitachi gas turbines are known to offer clients quality fuel savings and high thermal efficiency. With the flexibility to replace existing old gas turbines with new models, Hitachi turbines quickly become ideal choices for power providers looking to streamline delivery and installation.
About Wamar Power:
Wamar Power, a member of the Wamar International Group, provides advanced technical expertise in the installation, engineering and servicing of power generation systems. Wamar serves the power generation industry best by delivering solutions for modernization and engineering projects to companies worldwide. Founded in 1983, Wamar brings unique value to industries such as Aviation, Aerospace, Power Generation, Oil & Gas Exploration, Development, Turbo Machinery Maintenance, Overhaul, Training and Capacity Development. Wamar has expanded globally over the years with corporate headquarters in Simi Valley, Ca. USA and regional offices in Atlanta, USA; Santiago, Chile, Cartagena, Columbia; Amman, Jordan; Muscat, Oman; Baghdad, Iraq; Munich, Germany; Madrid, Spain; Belfort, France; Bangkok, Thailand, Singapore and Johannesburg, South Africa. Wamar has manufacturing facilities in Belfort France that includes complete reconditioning services of hot gas path components as well as new part manufacturing for fuel nozzles, combustion systems and consumable kits.
For more information about Wamar Power or its products and services, please visit us at http://www.wamar.com and http://www.wamar.fr.
Contact:
John Desimone
Director, Technical Services
Tel.: +1-407-488-5144
Email: john(dot)desimone(at)wamar(dot)com