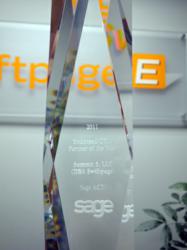 Englewood, Colorado (PRWEB) August 21, 2012
Swiftpage has been recognized as a development partner who has successfully delivered solutions that best fit customer and market needs, actively assisted the Sage channel in closing new sales, significantly aided with customer retention, and maintained a solid reputation for customer satisfaction.
"Swiftpage is a trusted and valued partner for Sage ACT! that provides us with a unique offering that positions Sage ACT! as more than a Contact Management solution. Swiftpage provides us with a continuous and constantly-growing revenue stream through their full-service partnership, and their end-to-end solution is an important component in our product portfolio," commented Julie Petersen, VP of Research & Development and Product Management for Sage ACT!. "Not only have we benefited from the continuous and growing subscription revenue stream, but it has helped make our customers more successful, and, as a result, more loyal."
Swiftpage CEO, John Oechsle was presented the award at the Sage Summit 2012 Conference on August 13th at the Gaylord National Hotel and Convention Center in Nashville, TN. John stated, "We are honored to be recognized as partner of the year and look forward to strengthening our relationship further. The combination of contact management, email marketing, lead scoring and social sharing is an exciting story to tell and gives the ACT! user the tools they need to effectively communicate with their customers and ultimately make more revenue."
About Swiftpage:
Swiftpage is the leading SaaS based white label marketing services solution for the micro and small business market. The Swiftpage solution provides email marketing, social media sharing, lead qualification, contact management and multi-touch marketing. Swiftpage focuses on providing this platform to technology providers with large customer bases in this segment. For more information visit http://www.swiftpage.com. Follow Swiftpage's Blog at http://blog.swiftpage.com/, on Facebook at https://www.facebook.com/Swiftpage.Emarketing and on Twitter at http://twitter.com/swiftpage.
About Sage North America:
Sage is a leading global supplier of business management software and services for small and midsized businesses. The Sage Group plc, formed in 1981, was floated on the London Stock Exchange in 1989 and now employs more than 12,600 people and supports more than 6 million customers worldwide. For more information about Sage in North America, please visit the company website at http://www.NA.Sage.com. Follow Sage North America on Facebook, http://www.facebook.com/SageNorthAmerica, and Twitter, http://twitter.com/sagenamerica.