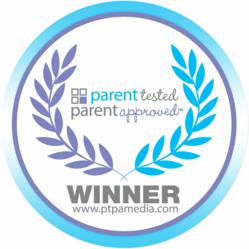 Toronto, Ontario (PRWEB) August 21, 2012
Parent Tested Parent Approved has spent the summer working with its community of volunteer family testers to bring families the latest and greatest in family focused products. With games like Flip2Bfit that gets kids active and healthy to products that are all about fun like the amazing Hot Wheels Wall Tracks, families can rest assured that they are getting great value for their dollar.
PTPA Media has North America's largest testing community – a credible third party resource for consumers with over 60,000 volunteer testers.
"Seeing the PTPA Winner's Seal on a product package or website helps consumers identify products that have been tested and recommended by other consumers. It's like shopping with your best friend," says PTPA Founder and CEO, Sharon Vinderine.
Since 2008, PTPA has evaluated thousands of products and services from leading manufacturers and emerging brands. Because independent parents evaluate these products in their own homes, PTPA winners are chosen based on merit and consumer experience – not on commercial considerations.
PTPA Media has become a recognized source by the media for credible and reliable recommendations for their audiences. Recognized TV personality, PTPA Founder and CEO Sharon Vinderine has presented PTPA Award winners on over 70 morning shows including the Rachael Ray Show, Fox and Friends, Canada AM and Global.
Here are just a few of the innovative new products to receive the PTPA Winner's Seal of Approval for their most recent 2012 campaigns:
Finders Key Purse: These gorgeous keychains add fun and personality to the outside of a school bag or purse. Keys are always easy to find with the Key Purse!
Smart911: Kids aren't always able to remember vital information in an emergency where seconds can count. By using this free service, 911 has the information they need on file.
MR. GREEK Restaurants: Boasting the best kids menu around, these restaurants and Express locations will have the whole family enjoying their dinner or lunch. Opa!
Prep Sportswear: Customized School Apparel and College Fan Gear. Thousands of t-shirts, hoodies, backpacks, hats all customizable with your favorite team!
Eddy's Number Party!: This kindergarten readiness app gets kids counting, matching, collecting, playing and earning stickers all while improving memory and attention.
For a complete list of award winners, visit the Back to School section on their newly updated website.
About PTPA Media Inc.
PTPA Media provides an objective framework for appraising and promoting new products designed to enrich family living. The company's mission is to marry innovative companies with discerning consumers, to improve consumer access to quality products and services for their families and homes.