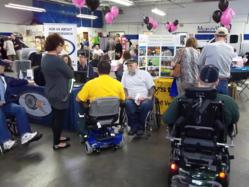 It's an event where people can find a lot of good information to make their life a little easier
Akron, OH (PRWEB) August 21, 2012
MobilityWorks announced today their annual Mobility Expo dates for the Northern Illinois and Western Pennsylvania disabled communities. These annual events bring hundreds of visitors to each location, with advocacy groups, organizations and equipment vendors combining efforts to help those who are disabled with improving their mobility. The public is welcome and both events are free of charge.
"The expos bring together public and private organizations that serve the local community in many different ways. It's an event where people can find a lot of good information to make their life a little easier and to make a few friends," said Guy Hanford, Director of Marketing for MobilityWorks.
The MobilityWorks showroom located in Villa Park Illinois will be hosting the Chicago Mobility Expo and Vendor Fair Thursday, October 4th from 11 AM to 7 PM. The event will feature a full schedule of Northern Illinois advocacy group speakers to discuss a variety of issues affecting the physically challenged. Among the topics to be examined include: help for caregivers, developing an active lifestyle, financial planning for special needs, adaptive driving and veterans assistance programs. More than 25 groups and vendors will be participating. Additional information can be found at http://www.mobilityworks.com/chicagomobilityexpo.php.
The Pittsburgh area Mobility Expo will be held the following week in Wall, PA. Now in its 7th year, prominent advocacy groups from Western Pennsylvania and leading mobility equipment providers will be on hand Thursday, October 11th from 11 AM to 7 PM. Based on last year's turnout, more than 500 people are expected to attend. In addition to a variety of disability-related organizations and veterans groups, the Pittsburgh Mobility Expo will also feature live entertainment by local music favorites Chuck Blasko and The Vogues. To learn more about the exposition in Pittsburgh, go to http://www.mobilityworks.com/mobilityexpo.php.
About MobilityWorks
Headquartered in Akron Ohio, MobilityWorks is the largest U.S. retailer of wheelchair vans and handicap driving equipment serving the disabled community. Now in their 15th year, they have grown to 20 van showroom and service centers in 12 states. The MobilityWorks Commercial Division is the largest mobility upfitter in the commercial van industry providing ambulette vans, non-emergency transportation vehicles, and handicap accessible taxis for businesses throughout the country. For additional information about MobilityWorks, go to http://www.mobilityworks.com.