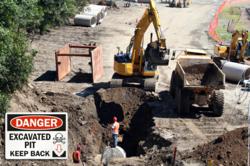 "With the current late summer season, the signs are perfect for construction efforts," said Blair Brewster, CEO of MySafetySign. "The signs are preventative solutions to keep civilians and workers from falling into excavations and open holes."
Brooklyn, New York (PRWEB) August 21, 2012
MySafetySign.com, the leading supplier of safety signs and labels, has announced the launch of a new line of open trench signs for construction sites. The signs mark open pits and dangerous excavations to save lives.
Open trenches are massive threats across the US. According to the Center for Disease Control's website, 350 workers died in trenching or excavation cave-ins from 2000-2009, with an average of 35 fatalities per year. During a cave-in, the walls of a trench can collapse suddenly without any reliable warning. Tragically, approximately 64% of trench fatalities occur at depths of less than 10 feet. The CDC insists that workers should never enter trenches without protective systems installed in place.
"With the current late summer season, the signs are perfect for construction efforts," said Blair Brewster, CEO of MySafetySign. "The signs are preventative solutions to keep civilians and workers from falling into excavations and open holes."
MySafetySign's open trench signs are original and effective. "Danger" messages are emblazoned in red, white, and black, in addition to Warning and Caution Signs. The text warns passersby to stay clear of open pits, open holes, and deep excavations. If MySafetySign does not have the specific sign desired, custom options are available. Simply enter text, upload a company logo or graphic tweaked at no extra charge, and the sign will be ready to ship in minutes.
During the process of creating signs, MySafetySign takes great care in using durable materials that last for least a decade. Plastic, aluminum, and vinyl are all materials used. Free PDFs are available to download at http://www.mysafetysign.com.
About MySafetySign
MySafetySign is the Web's largest store for safety signage. The company's mission is to make signs and labels as effective as possible in order to prevent accidents and save lives. Customers can choose from over 40,000 designs and customizable templates.
About SmartSign
SmartSign is one of America's fastest growing e-commerce companies and parent of MySafetySign, MyParkingSign, and more than 50 other sites. The company manufactures and distributes a wide range of signs, tags, mats, and labels. By positioning "signs as solutions," SmartSign has taken a novel approach to ordering signs. Through highly targeted, content-rich, and authoritative retail sites, the company provides specific solutions to specific problems, such as emergency shelter signs. SmartSign is widely recognized for its quality construction; its signs come with a 3M® warranty and outlast fast-fading, ink-jet signs. Other SmartSign advantages include fast and free shipping, the Web's largest range of designs, and a best-price guarantee.
###