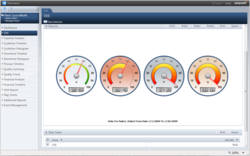 Informance EMI version 8 features a new user interface, reporting and data collection enhancements, and improved technology compatibility
Chicago, IL (PRWEB) August 21, 2012
Solarsoft Business Systems, a leading provider of enterprise software and IT services to manufacturers worldwide, announced the latest release of its enterprise manufacturing intelligence suite. Solarsoft's Informance EMI monitors manufacturing line performance in real-time, delivering clear, accurate information about OEE (Overall Equipment Effectiveness), downtime and waste so manufacturers can focus continuous improvement efforts on the most critical opportunities.
Informance EMI version 8 features a new user interface, reporting and data collection enhancements, and improved technology compatibility. The reporting enhancements include updates in the report control and administration interfaces. The OEE Dial Chart now includes all OEE components for a comprehensive look at OEE Performance.
"Informance EMI 8.0 improves the user experience, and provides new enhancements to the standard dashboards and the charting function," says Paul Ellis, Vice President of Sales for Solarsoft's Manufacturing Execution and Intelligence division.  
About Solarsoft Business Systems
Solarsoft provides modern enterprise software and IT services to manufacturers, distributors and wholesale businesses in North America, Europe and Asia. The company has grown organically and through acquisition since 1986 and has worldwide revenues of US$100 million. Solarsoft employs more than 450 professionals providing local support across 16 time zones. More than 2,500 companies rely on Solarsoft to bring clarity and efficiency to their daily operations. For more information please visit http://www.solarsoft.com.