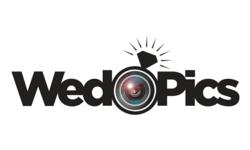 "WedPics is looking to revolutionize how guests capture pictures at weddings," says Mashable
Raleigh, NC (PRWEB) August 22, 2012
Go to any wedding today and you will see an army of smartphones raised in the air trying to capture the special moments of the big day. Now weddings and smartphones have blended together in WedPics-a new app created by Raleigh, NC based start-up deja mi-that lets the bride and groom capture their wedding through the eyes of the guests. The WedPics app crowd-sources all of the photos taken on smartphones and uploads them directly to the bride and groom's online album.
"We've created an app to capture a special ceremony and to make sure the couple getting married can quickly access photos from their wedding and not spend all their time tracking them down," says CEO and Co-Founder Justin Miller.
WedPics' unique digital album also allows wedding guests to upload their photos from their digital cameras, so it isn't limited to just smartphones. Whether it's your friend with an iPhone or grandma's digital camera, everyone will be able to participate in WedPics and the joy found in each photo.
"WedPics is looking to revolutionize how guests capture pictures at weddings," says Mashable. WedPics has been featured on TechCrunch, Yahoo News, and Mashable and secured almost 2000 sign-ups before the product launched August 16th.
"This app is built from top to bottom for capturing the wedding experience, we even created specific photographic filters to tune up smartphone photos for weddings," says Tyler Mahoney, deja mi Co-Founder and Photographer.
WedPics is free on the app store for wedding guests, and the bride and groom pay for an access code that allows their guests to log into the secure photo-sharing album of their wedding. The app also allows guests to comment, 'love,' and share those same photos, creating a social network for everyone at the wedding.
"Brides want to make sure they can get all the photos from their wedding, but they don't want to worry about it during the wedding … we are solving that problem," says Idan Koren, President and Co-Founder.
"It's a tall task to ask any wedding photographer to capture every moment of a wedding. WedPics allows the guests to serve as extension of the photographer and grab those missed moments in a fun, interactive way," adds Alex Lewis VP of Marketing. To register for your personalized WedPics album go to http://www.wedpics.com or search for 'WedPics' on the App Store or Google Play.