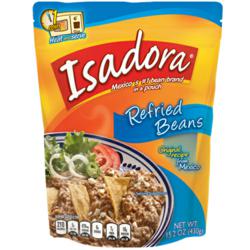 "This is a very exciting new line for us," said Alan Konecny, Isadora's regional sales manager. "The beans are really delicious… our customers are going to love the quality and convenience."
Dallas, Texas (PRWEB) August 21, 2012
Verde Valle, Mexico's leading bean and rice brand and the producer of Isadora Beans, announced today Isadora's new line of refried and whole beans packaged in a uniquely designed, state-of-the-art pouch. Along with its lightweight convenience, the multi-layered retort pouch offers retention of exceptional flavor and nutritional value. This new packaging has revolutionized the prepared bean category in Mexico, quickly outselling canned beans in supermarkets across the country. Isadora refried beans are available in four popular flavors: Tex-Mex, Original Recipe, Low Fat and Black, in a 15.2-ounce size. Isadora Whole Pinto and Whole Black beans are available in 16-ounce packages.
"This is a very exciting new line for us," said Alan Konecny, Isadora's regional sales manager. "The beans are really delicious; in fact, studies in Mexico have shown us that customers widely prefer the homemade flavor, texture, and aroma to beans that are 'preserved' in a can. Plus, they microwave in just one minute. Our customers are going to love the quality and convenience."
Isadora Refried and Whole Beans are high in fiber, protein and iron; low in saturated fat; contain no cholesterol or trans-fats; and are gluten-free. The sealing and construction of the multi-layer, BPA-free retort pouch ensures superior safety and integrity of its contents, which stay fresh for up to 24 months.
About Isadora:
Productos Verde Valle, SA de, parent company of Verde Valle Foods, Inc., was founded in Mexico in 1967. The leading brand of beans and rice in Mexico and a top brand in the United States, Verde Valle Foods is known for the purity of flavor and superior quality of their products. Isadora Refried Beans are available in four flavors: Tex-Mex, Original Recipe, Low Fat, and Black, in 15.2-ounce pouches. Isadora Whole Pinto Beans and Whole Black Beans are available in 16-ounce pouches. Isadora Whole and Refried Beans are available at natural and conventional grocery stores across the United States, and online at Amazon.com. For more information, visit http://www.IsadoraBeans.com.