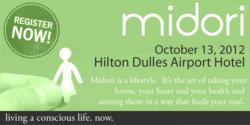 uniting our homes, our hearts, and our health is the secret to living a conscious, balanced life
Reston, VA (PRWEB) August 21, 2012
Mina Fies, CEO of Synergy Design & Construction is joining two power-house women, Danielle Omar and Richa Badami, in their first Midori Workshop to be held October 13, 2012.
"The purpose of our Midori workshop is to empower others to live their best life right now. We believe uniting our homes, our hearts, and our health is the secret to living a conscious, balanced life that is aligned with our deepest desires," says Mina.
Although Mina's role as Founder and CEO of Synergy D&C remains unchanged, she is excited to use Midori as a way to communicate to a much broader audience about the heart-based side of renovating.
"It's always been my belief that there is a deep connection between our personal selves and the spaces we surround ourselves in. Midori will allow me to share that knowledge in a way I haven't before," says Mina.
During the workshop, Mina will be providing simple, yet powerful, techniques she uses to create spaces that nurture the soul, while Midori's co-leaders help to round out their message.
Danielle Omar will be sharing simple empowerment secrets that help anchor the mind with the body and lead to conscious eating, while Richa Badami will be sharing tips on how to create simple yet profound pauses in everyday life that inspire "meditative moments".
The Midori workshop will be hosted by the Hilton Washington Dulles Airport in Herndon (right outside of Washington DC), and will be easily accessible by participants in major metropolitan areas up and down the East Coast.
About Midori, LLC:
Midori is a joint venture between Mina Fies, Danielle Omar and Richa Badami - created to empower others to live their best lives through empowerment workshops. The first workshop held in October of 2012 will be followed by several more in 2013 and is complemented by additional support offered throughout the year.
About Synergy Design & Construction, Inc.:
Synergy D&C is an award-winning woman-owned, Class A General Contractor serving Virginia, Maryland, and the District of Columbia. Their mission is to be the most trusted renovation and design firm in the industry, committed to excellence in customer service and innovative strategies for remodeling success. Synergy D&C launched at the height of the recession, and has already garnered recognition through several Master Design and Contractor of the Year awards and has been featured on HGTV's "Bang for your Buck."