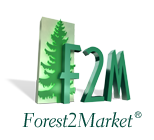 Charlotte, NC (PRWEB) August 21, 2012
Forest2Market announced today that Peter Coutu has joined the company. In his new role, Coutu will head the company's Midwest and Northeast region office, which is located at 4650 W. Spencer Street, Suite 21, Appleton, WI 54914.
Coutu will be responsible for expanding Forest2Market's Forest2Mill product line, the company's suite of services for buyers and sellers of logs, into the Midwest and Northeast. Coutu will also manage product evolution and development.
"The opening of our Midwest and Northeast office means that we will now have a presence in all the major timber markets in the U.S.," said Peter J. Stewart, Founder, President and CEO of Forest2Market. "Peter Coutu brings energy, experience, and in-depth knowledge of the supply chain to our business. He is ideally equipped to develop and deliver data-driven business solutions for our customers in the North. We welcome him to our growing team."
Coutu comes to Forest2Market with 22 years of experience in the industry. Most recently, he spent seven years at Plum Creek where he held a series of senior level marketing and sales positions. As Senior Marketing Manager – Lake States, Coutu was responsible for sales and marketing of wood products from 1.1 million acres of land in Michigan and Wisconsin.
Before that, Coutu spent 15 years at International Paper. There, he served as both Fiber Procurement Manager (where he managed a fiber procurement team of 5 purchasing agents and provided 2 manufacturing locations with $25 million of wood fiber annually) and Operations Manager (where he was responsible for managing 300,000 acres of timberland, including the planning and harvesting of 320,000 tons of timber annually).
Coutu has "boots on the ground" experience in the forests of the Midwest and the Northeast, having received his B.S. in Forest Management from the University of Maine and his M.S. in Forest Management from Michigan State.
About Forest2Market
Headquartered in Charlotte, N.C., Forest2Market provides market pricing data as well as wood and fiber supply chain expertise to customers in the forest, wood products, recovered fiber and bioenergy industries. For more information, visit http://www.forest2market.com or read our blog at http://blog.forest2market.com.