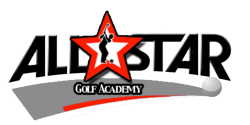 Charlotte, NC (PRWEB) August 22, 2012
All star golf academy provides golfers with free golf tips, information, for all aspects of the game of golf. It is the only place to get fun world-class golf lessons that all skill levels can benefit from. Today's golf lesson is Point the Gun. It is a golf drill developed for stronger wrists.
Most ever golf wants to hit their irons longer. Just 5 more yards on each club makes a difference. There is one thing that will improve ball striking and that is strong wrists. Most amateurs hit the ball short because of weak wrists at impact. When the wrist collapses, it breakdowns the lead wrist. The result is a weak hand position at impact. That will cost distance. Today's golf goal is to strengthen our wrists in order to hit our irons longer.
Before we start, take a second and imagine what IMPACT looks like.
First of all, they hands are slightly in front of the ball and secondly, you club is going down into the ball and ground downward.Firm wrists is one of the secrets of ball striking. I recommend the Point the Gun Drill to all golfers to help strengthen their wrists. Grab two clubs and perform this exercise.
Point the Gun step by step instructions are written for right handed golfers.
Click this Link to watch YOUTUBE video.
1.Grab two club and hold your arms straight in front of you.
2. Hold both clubs straight up in the air
3. Point your index finger straight ahead like a gun with both hands.
4. Grip the Club with you bottom 3 Fingers of your right hand
5. Grip the Club with your middle 2 fingers of your left hand.
6. Alternate Up and Down with each hands slowly.
7. Stop at the top for 3 secs without shaking.
Do the Point The Gun Drill for 20reps for each hand , 3-4 times a week. Doing these exercises every other day and it will help with the firmness of your wrists.
About the Instructor Raj Jackson is the Direction of Instruction at the All Star Golf Academy. He has taught over 10,000 students and has helped beginners, weekend warriors and pros. For more golf videos and tips from Raj Jackson, please go to http://www.allstargolfacademy.com or stay connected with the All Star's facebook page