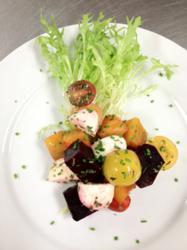 Rodney Kaufman and his team have always exceeded our expectations and have always been most accommodating and reassuring in making every event enjoyable and outstanding.
Toronto, Ontario (PRWEB) August 21, 2012
Although the days of summer may be numbered; the fall comes with warm flavours, fresh foods, and lots of reasons to entertain. Impeccable Taste Catering's creative palate has crafted an original menu full of tasty, local delicacies and sumptuous entrees to woo your guests.
"Our autumn menu will focus on ancient grains and local heirloom vegetables with rich Ontario flavours," says Rodney Kaufman, President and Executive Chef of Impeccable Taste Catering. "The marriage of flavours works really well for dinner parties, hors d'oeuvre events, cocktail parties, corporate receptions, or even lunch catering." The menu will feature woodsy thyme-infused dips and sauces, a variety of woodland mushrooms, whole grains in salads and side dishes, ancient grain medleys, heirloom vegetables and maple syrup.
Fall is also a great time for beer tastings and scotch-nosing functions. There is no better way to impress guests than to accompany those drinks with perfectly complementary and seasonal passed canapés or food stations. Toronto office manager and dinner party host, Jeffrey Yale, says, "With so many catering companies to choose from in Toronto, Impeccable Taste Catering is always my first choice. They really stand out because of their high-quality ingredients, overall creativity, and reliable service—Rodney is wonderful to deal with, whether I am planning corporate events for the office or dinner parties at home."
It's never too early to start planning holiday events; all bookings made with Impeccable Taste Catering prior to October 31, 2012 will receive 5% off the food portion of any catering event. In addition to offering seasonal dishes and its signature colour-coded menu designed to match flavours, Impeccable Taste Catering will design a custom menu especially for your function. Impeccable Taste Catering organizes all event details—from wait-staff to rentals and entertainment.
Impeccable Taste Catering consistently delivers quality food that looks as good as it tastes. As for catering services in Toronto, service, quality and presentation, like the name suggests, is impeccable, and each event is custom-tailored to suit the unique needs of each customer. Impeccable Taste Catering works with private individuals, companies and corporations in Toronto and the wider Greater Toronto Area markets. Services include expert event- planning and catering for casual lunches, seminars, conferences, product launches, release parties, corporate affairs and social events such as weddings. Born out of the philosophy that exceptional food must not only be meticulously prepared but also artfully presented, our service offerings feature colourful, eclectic and progressive menu options. Visit itcatering.ca for more details.
Press Release development and distribution by InFrontMedia