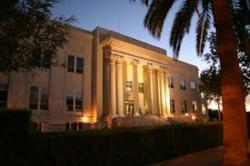 Epicenter Of The Largest Predatory Lending Prosecution Made By Individual Citizens Against BofA, Countrywide and others.
(PRWEB) August 22, 2012
San Jose, CA: In an exclusive hearing held at 1:30 PM on Friday August 17, 2012, Judge James Stoelker seemed to show surprise and confusion when presented with a motion requesting that he disqualify himself "for cause," based upon a motion filed by Plaintiffs Salma and David Merritt, which reported that they had learned the night before that the Judge had previously been employed by two of the main Defendants in their Case.
The motion charges the Judge with rendering at least five previous decisions in the case which were consistently adverse to the Merritts, and always in favor of the Countrywide/BofA Defendants. It references specific violations of California law made by Judge Stoelker then goes on to identify and present these past decisions by way of exhibit attachments. The motion then delineates five previous court cases in which the Judge, while working as private lawyer, was contracted by Countrywide Home Loans and First American Title Company to defend and otherwise represent them both in legal matters over more than a decade.
Based on court transcripts and witnesses, in open court on Friday, Mr Merritt, representing himself along with his wife, told Judge Stoelker that they were "sadden" in learning that he had been "employed by this case's defendants, but you failed to disclose that to us." Mr Merritt stated that they felt as if they had been violated in having this hidden from them. The record further shows that Mr Merritt further stated that both he and his wife "could not understand why you [the judge] were always siding with," the Defendants, however, "once we learned that you previously worked for them it all made sense."
Spencer Graves, a local San Jose Political Activist, along with some twelve other Home Owner Advocates, were present in the courtroom and they each report that Judge Stoelker showed some surprise and was at a lost for words. They then report, along with court transcripts, that he finally admitted to working for Countrywide "multiple times," however, he never considered it a conflict of interest "in this case," because although he represented Countrywide in previous matters, it was always "on behalf of one or more of the title companies" who employed him to do so.
Court transcripts also reflect that Mr Merritt went on to point out that First American Title is a major Defendant in their case as well and that the Judge should have disclosed his pass relationship with them as well. Judge Stoelker then claimed that he did not know that they were a defendant. The Judge asked BofA's counsel to give some input on whether he should recuse himself; however, all that attorney Thomas Lee could say was: "The Merritts must've known about this long ago," and should have raised this point before. Mrs Merritt chimed in "That is not true." While Mr Merritt reiterated that it was only learned of the evening before.
The record then has Judge Stoelker asking Mr Merritt what was his options and Mr Merritt replied: "You have 10 days to either challenge the motion with making a reply," or let the 10 days past without a reply and the judge would automatically be recused.
Superior Court records reflect that this case was filed in December 2009 as Merritt v. Mozilo, et al, 109-CV-159993. The complaint alleges that Bank of America, Countrywide Home Loans, Bear Sterns, MERSCORP, First American Title and their respective CEOs committed fraud and unfair business practices not only upon the Merritts, but millions of first time home buyers throughout the U.S. On August 11, 2011, Judge Mark Pierce, in a significant court order, denied most of Countrywide Defendants Demurrers and held that the Merritts have stated claims for Fraud and several types of Unfair Business Practices. He dismissed BofA and its CEO from the case along with American Title and MERSCORP, however, that decision is currently being briefed by the California Court of Appeal's Sixth District under the appellate number H037414.
Judge Stoelker was appointed to the California Bench by then Governor Arnold Schwarzenegger in 2010. He has been stationed in the Santa Clara Superior Court as its Discovery Judge since January 2012. As a private lawyer he has principally defended and represented corporations, mostly in the title insurance arena.