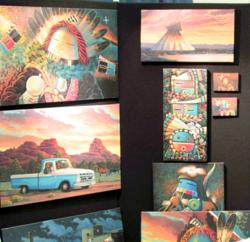 Farmington, NM (PRWEB) August 21, 2012
The Totah Festival schedule, this September 1st and 2nd, includes a Native American fine arts marketplace, a large authentic Navajo rug auction held in the Civic Center Theater, and a contest pow-wow on the front lawn. "Among the thousands of visitors expected at the show are an increasing number of buyers and collectors from around the U.S. looking for emerging artists," says Tonya Stinson of the Farmington Convention & Visitors Bureau.
Many of the artisans demonstrate their techniques and skill for the crowd. Winners of the Festival poster contest and the juried art competitions are announced and receive awards at the Gateway Park Museum and Visitors Center on Friday evening, August 31. Among previous winners of the Totah poster contest are noted artists JC Black, a self-taught Navajo painter, the much awarded Hyrum Joe and contemporary artist Gilmore Scott.
Farmington has long been a center for trading Southwestern Indian wares. Visitors to the Totah Festival Indian Market can continue their shopping two blocks from the Civic Center on Main Street and Broadway and farther west on U.S. Hwy. 64 where there is an excellent lineup of trading posts operated by traders who have promoted Native American artisans for generations.