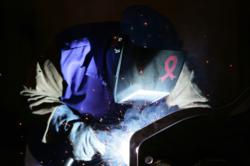 Radius Steel is a company that is proud of their team members and proud to say, "We are working to bring jobs back to the USA."
Sioux City, IA (PRWEB) August 21, 2012
Radius Steel Fabrication – SOO Tractor, an original equipment manufacturer, (OEM) has a depth of employee talent, experience, technology, and efficiency. They are an agile and fast to move, privately held, steel fabrication company that manufactures a range of products across a broad variety of industries, including heavy equipment / construction, oil and gas, mining, refuse, and military/defense manufacturing. However, qualified metalworkers for manufacturing are increasingly hard to find due to the high demand for experienced manufacturing employees in the region. This has led Radius Steel to partner with Western Iowa Tech Community College (WIT) to help fill its hiring needs for the welding department as its need for skilled laborers grows. To show customers its commitment to precision, Radius Steel is in the process of certifying the company with the highly regarded CSA Standard W47.1 Welding Certification.
Radius Steel offers entry level welding jobs with 50 hours of instruction through the college's customized welding training program. The college has partnered with the company to organize classes and to train welders specifically for its steel fabrication operations with an on-site school at its Sioux City, Iowa plant. "New welders at Radius Steel can learn the basics of the job, and less experienced welders can upgrade their skills with help from WIT," said Sheila Baker, Radius Steel's Controller and Human Resource Manager. Welders will be trained during normal business hours. The on-site instruction includes introduction to fabrication, welding blueprint reading, common welding symbols, Gas Metal Arc welding (MIG) processes, review of equipment, and workplace safety. "With the high demand for skilled welders it would be very difficult for us to keep up with our welding needs if we didn't have this training program in place," affirms Ms. Baker.
As a nation, we tend to encourage our children to go to college and study to be a business, healthcare, or computer science professional. We tend to overlook the fact that manufacturing is a respected, viable career path that can provide quite an agreeable standard of living. These days, metal fabrication is a highly skilled precision job that incorporates the use of computer-controlled machines including robots and lasers. The jobs are ideally suited to people who like to use their hands, have good dexterity, have an eye for detail and who earnestly say that they love working with metal. Workers construct equipment from engineering blueprints and gain satisfaction from seeing the finished product that they helped to manufacture.
Employees at Radius Steel have to work together to manufacture precise, quality products. These production workers are the rarely thought of artists - empowered with knowledge and skill. They are artists; artists who arrange, cut, bend, weld, and assemble products that create economic value for not just companies, but our economy.
Radius Steel is a company that is proud of their team members and proud to say, "We are working to bring jobs back to the USA."
Steel is known for its strength, but so are the people at Radius Steel Fabrication.
About Radius Steel – SOO Tractor:
Radius Steel Fabrication - SOO Tractor is an established and leading steel fabrication company in the United States producing exceptional products for a range of classic brands, amongst them, Massey Ferguson, AGCO, Hesston, Challenger, Wil-Rich, SmithCo / Side-Dump, and Silent Drive.
Radius Steel Fabrication - SOO Tractor was established in 1941 to meet the needs of the agricultural machinery industry and has become renowned for the quality of its customized steel fabrication; setting new standards of environmental protection and exceeding the requirements of its clients and partners. We are proud of our ISO 9001 certification and in the satisfaction of our customers.... we have a warranty rate of 6/10th of 1%.
Radius Steel Fabrication – SOO Tractor's tradition of excellence provides customized fabrication integrated with electronics and cutting-edge technology to an expanding range of industries amongst them, Telecommunications, Military/Defense, Heavy Equipment/Construction, Refuse, and Oil and Gas.
For more than 70 years of service, Radius Steel Fabrication - SOO Tractor's core values are strong: We believe in providing exceptional quality; we believe in the value of "American manufacturing"; we believe in being the best at what we do."
For more information about Radius Steel Fabrication and to learn what we can do for you, please visit: http://www.RadiusSteel.com