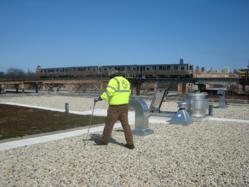 We are committed to providing leak-free protection and longevity for building owners, said Brian J. Whelan, Senior Vice President of Sika Sarnafil.
Canton, MA (PRWEB) August 23, 2012
International Leak Detection (ILD®), the leading provider of roofing and waterproofing integrity testing, and Sika Sarnafil, the worldwide market leader in thermoplastic roofing and waterproofing systems, announced a partnership today to provide Sika Sarnafil's U.S. customers with state-of-the-art leak detection technology.
Through this collaboration, Sika Sarnafil waterproofing assemblies are now compatible with ILD's proprietary technologies – Electric Field Vector Mapping (EFVM®) and Vector Mapping Grid (VMG™) – enabling the waterproofing integrity of the system to be tested as a quality assurance method shortly after installation or in the event of a future leak without the traditional lengthy and costly investigation.
"We are committed to providing leak-free protection and longevity for building owners," said Brian J. Whelan, Senior Vice President of Sika Sarnafil. "While our systems are known to be dependable, it is not uncommon for waterproofing membranes to be damaged after installation during ongoing construction. This damage could go undetected until a leak develops after the project is completed. International Leak Detection's EFVM technology will help us make sure Sika Sarnafil roofing and waterproofing systems continue to stand the test of time and provide our customers with cost-effective and long-lasting solutions."
Sika Sarnafil waterproofing systems are used in green roofs and plaza deck applications where the waterproofing system is covered and concealed by plants and hardscape elements such as pavers, drainage composites, and insulation. It is very costly to remove and replace these materials during a leak investigation. With the combination of ILD's VMG and EFVM testing method, the integrity of the membrane can be confirmed prior to the installation of overburden and throughout its lifespan with pinpoint accuracy.
EFVM is a non-destructive low voltage testing method that creates an electric potential difference between a non-conductive membrane surface and a conductive medium below the membrane. By spraying water on the membrane, an electric field is created which allows a trained EFVM technician to accurately read the flow of electricity and locate membrane breaches, in a timely and cost-effective manner.
Projects with non-conductive substrates or conventional roofing systems used to be an obstacle for EFVM, but after years of research and development by ILD, the VMG is able to create the required conductivity to allow for an effective EFVM test. VMG is a patented stainless steel mesh that is placed below the membrane and when connected to the ILD's EFVM equipment, allows for a potential difference below and on top of the membrane for an EFVM test to be completed. In the case of Sika Sarnafil's conventional roof systems, ILD is able to utilize their VMG to deliver quality control integrity testing as well as future troubleshooting, if and when required.
"Providing a compatible leak detection system provides the building owner assurance that the waterproofing system can be tested in the event of a leak," added Whelan.
"ILD is honored to work with Sika Sarnafil to deliver the highest level of quality control testing service available for their membrane installations," noted Chris Eichhorn, RRO, the President of ILD. "Our EFVM test method has been proven to be an extremely accurate testing method worldwide. We look forward to this partnership which will ensure Sika Sarnafil's quality membranes remain watertight for their clients."
About ILD
Since 2001, International Leak Detection has been the world-leading provider of roofing and waterproofing integrity testing. Today, ILD is a multinational company, serving clients from offices and affiliated partners around the world. To date ILD has tested over 200 million square feet of roofing and waterproofing membranes worldwide, utilizing only fully trained and certified EFVM technicians. As such, ILD remains the world leader of integrity testing. Please visit http://www.leak-detection for the history, products and successes of ILD.
About Sika AG
Sika AG, headquartered in Baar, Switzerland, is a globally active company supplying the specialty chemicals market. It is a leader in processing materials used in sealing, bonding, damping, reinforcing and protecting load-bearing structures in construction (buildings and infrastructure construction) and in industry (vehicle, building component and equipment construction). Sika's product lines feature high-quality concrete admixtures, specialty mortars, sealants and adhesives, damping and reinforcing materials, structural strengthening systems, industrial flooring and roofing and waterproofing membranes. Sika AG has subsidiaries in more than 76 countries worldwide and approximately 15,250 employees link customers directly to Sika and guarantee the success of all of its business relationships. With this business structure, Sika generates annual sales of CHF 4.556 billion. For more information about Sika Sarnafil in the U.S. including Canton, MA visit http://usa.sarnafil.sika.com/.