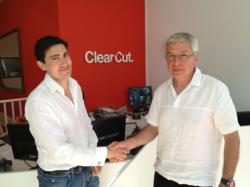 "We've watched Aframe grow and I believe in its vision of the cloud as transforming video production," said Horacio Queiro, CEO of Clear Cut Pictures.
LONDON AND BOSTON (PRWEB) August 21, 2012
Aframe, the cloud video production platform designed to liberate the professional video production process, announced that Clear Cut Pictures has become the first Aframe Upload Partner in the UK. The news follows Aframe's April announcement of the launch of a series of Upload Partners in the US, and attests to Aframe's commitment to create an ecosystem of Aframe Upload Partners worldwide.
The partnership between Aframe and Clear Cut Pictures gives video professionals a fast and easy way to upload large amounts of video footage as a first step toward using Aframe's production workflow in the cloud. Clients can now come to Clear Cut's sites in W1 and W14 with their rushes to upload them to the Aframe servers using Clear Cut's 100Mb line, ensuring fast and reliable uploads, and saving client time for more important production tasks. Aframe then transcodes the uploaded media into H264 web viewing proxies, and offers a wide complement of other collaboration and distribution services that Upload Partners can add to their existing roster of offerings in post production.
"We've watched Aframe grow and I believe in its vision of the cloud as transforming video production," said Horacio Queiro, CEO of Clear Cut Pictures. "Aframe offers an alternative solution to our other cloud solutions by uploading the native raw, full resolution rushes media to their servers."
"We're using its platform ourselves for remote logging and storing raw rushes on Classic Car Rescue by Blink Films," said Scott Holmgren, MD of Clear Cut Pictures. "In addition to the high speed uploading, Aframe also has some excellent features for review and project collaboration. Our team loves how fast it allows them to create selects reels, make live annotation of notes accessible on mobile phones and PCs."
Clear Cut Pictures is also using Aframe's intuitive metatagging service to make searching for clips much simpler. This includes timecode-based tagging, to expedite selection of just the right clip for the project.
Ahead of IBC, where Aframe will showcase live on-site work using its acclaimed cloud video production platform, Aframe CEO David Peto welcomed Clear Cut to the growing list of partners.
"As a firm with a nearly 20-year track record of staying ahead of the market, Clear Cut Pictures is an exceptional partner to Aframe," said David Peto, CEO of Aframe. "The cloud is changing post production more than many professional video domains, and leading post firms like Clear Cut that grab the cloud like an opportunity can offer customers the best labour- and money-saving technologies. We're excited to work in partnership with them."
Visit Aframe in the Panasonic pavilion at [IBC, Hall 9, Stand 9.C45 or at http://www.aframe.com.
# # #
About Clear Cut Pictures
Clear Cut Pictures has been offering post production services for over 19 years and in 2011 was named as the UK's Best Post Production House in the Broadcast Awards. They are dedicated to staying ahead of the market by ensuring clients have the 'best in the business' talent and the very latest equipment at their disposal. Their ethos is to always offer you the tools and talent to make the best programme possible and within budget at all times.
For more information about Clear Cut Pictures, please visit clearcut.cc or contact us at sales(at)clearcut(dot)cc 020 7605 1700
About Aframe
Aframe is a web-based service designed to liberate the video production industry by providing a shared, secure space for production companies, broadcasters, marketing agencies, and any business or individual working with the moving image. Using Aframe, producers can plan, create content, collaborate, store, edit, distribute and make footage searchable. Aframe aims to take the blood, sweat and tears out of content creation, without needing equipment or full-time staff, and only requiring an internet connection.