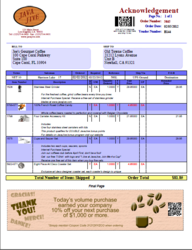 (PRWEB) August 21, 2012
Eclipse Corporation, the North American distributor of DocOrigin, enterprise class document design and enterprise document generation software, announced today the release of DocOrigin 2.0. Version 2.0 delivers enhanced performance, powerful new PDF assembly and archive retrieval functionality. Dynamic White Space Management optimizes cross promo marketing without wasting valuable presentation space. Built utilizing the principles of Integration Without Modification ("IWM"), DocOrigin works with all line of business software packages and supports international languages and data formatting. IWM eliminates the need to make changes to business software, which makes DocOrigin valuable with all Line of Business Software packages.
The software developers of DocOrigin created similar software that was previously sold by Adobe, JetForm, and Resolutions. JetForm Central was purchased by 100% of the Fortune 10, and 71% of the Fortune 1000 and is still being used by thousands of companies today. DocOrigin version 2.0 is the culmination of more than 20 years of experience and combines the latest in software technology with the knowledge gained from creating the most widely used e-forms products in the world.
Clients in the healthcare, banking, manufacturing, distribution, logistics, and government industries among others use DocOrigin software. DocOrigin integrates easily with Infor, Lawson, Microsoft, Oracle, QAD, Sage, SAP, and other major software solutions. DocOrigin customers enjoy rapid deployment with the benefits of IWM and major cost saving with Intelligent Document Reduction® ("IDR"). IDR reduces the page surfaces required to present information by up to 66%, saving paper, bandwidth and storage space.
Key Features of DocOrigin 2.0:
1. Enhanced performance, up to 15,000 PDF pages per minute.
2. Tables are a snap and support for page overflow is automatic.
3. Integrates with Eclipse E1 Rapid-Forms for Oracle EnterpriseOne & World software.
4. PDF Assembly for generating complex personalized correspondence.
5. Expanded OS support for AIX, IBM i, LINUX, UNIX, WINDOWS.
6. Enhanced PDF Generation, Dynamic Password Protection/Encryption.
7. Archive complete document batch in a single PDF, saves up to 83% disk storage space.
8. Extracts individual pages/documents from a PDF file and assembles them in a new PDF document.
9. HTML output can be printed with intelligent pagination (no more unexpected page breaks).
10. iFORMagine for the IBM i, is now Powered by DocOrigin, and includes migration tools for Adobe/JetForm Central, R-Forms, PDF Wizard and other aging document generation solutions.
11. Integrates with ProTechnology Automation's JetTrac products.
Eclipse is actively looking for resellers and OEM's for DocOrigin.
For complete details on DocOrigin 2.0 visit http://www.eclipsecorp.us/docorigin.html
email info(at)EclipseCorp(dot)US
Contact: Will Luke, 678-408-1245, Will(dot)Luke(at)EclipseCorp(dot)US
About Eclipse
Eclipse Corporation is a leading provider of document automation and enterprise document generation software solutions. Eclipse products help companies manage information by making documents more accessible and dynamic for customer facing and internal uses. With more than twenty years of experience, Eclipse provides deep knowledge of document automation and management software. Eclipse listens to clients and provides solutions that work and delivers them at a fair price.
Eclipse principles are simple: provide the right solution and get the job done - on time. It's their depth of experience that allows Eclipse to deliver on these principles every time.
Eclipse Corporation
"Intelligent Document Reduction" is a registered trademark of Eclipse Corporation WSL Inc.
Eclipse Corporation WSL Inc. dba Eclipse Corporation
Eclipse Corporation is a member of OPN, an Oracle Gold Partner
Eclipse Corporation is a member of IBM Partners in Development