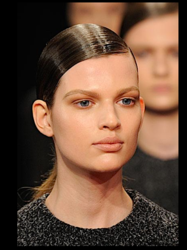 Be sure to take note of the techniques used to make each distinct look with the face cards provided.
New York, New York (PRWEB) August 21, 2012
BeautyStat.com -- the leading online beauty community for skincare reviews and makeup reviews -- is ready for the fall season! BeautyStat covers this fall's beauty trends with nine eye-catching looks from world-renowned celebrity makeup artist Pat McGrath. Pat McGrath's Fall/Winter 2012/13 beauty trends include nine themes: Subersive Chic, Lip Noir, Illustrated Eyes/Pop Art, Blue Mood, Smoldering Intensity: High, Smoldering Intensity: Low, Cool Modern Neutrals, Portrait Perfection and Bespoke Brows -- looks that everyone can recreate at home thanks to McGrath providing full lists of products used -- from drugstore brands (including COVERGIRL) to department store brands (including Dolce & Gabbana) -- and in-depth face cards to help you get the look at home!
These bold and dramatic beauty trends were all created by McGrath for high-end designers during their Fall/Winter 2012/13 collections including Bottega Veneta, Prada, Yohji Yamamoto and more! Capture the smoldering intensity with a soft, smokey eye and soft lip from Valentino, or a tantalizing electric blue cat-eye from Anna Sui. Either way, these looks are sure to make a statement this fall. With nine looks, there is bound to be a beauty trend that will work for you! Get creative with a blue lip (as seen at Yohji Yamamoto) or let your brows do all the talking with a clean face (as seen at Calvin Klein). BeautyStat has you covered this fall with an endless array of fall beauty trend looks and makeup swatches from the other fall cosmetic collections. Get inspired this fall!
BeautyStat.com (a NYC tech startup) is an online beauty community and social marketing agency for the beauty industry. It has been featured in Womens Wear Daily, New York Times, Forbes Magazine, NBC and CBS News. The strength of BeautyStat.com is its captive, engaged and influential 100,000+ community, 190+ blogger network and 40 million social network reach. BeautyStat.com works with beauty brands, retailers and PR agencies to connect them to the BeautyStat community for online PR events, advertising and rich consumer insights.
BeautyStat.com was founded by beauty entrepreneur Ron Robinson. Ron is a veteran cosmetic chemist who has worked for such leading beauty companies as The Estée Lauder Companies, L'Oreal, Avon Products and Revlon Products. Ron is currently a resident beauty expert for Allure magazine.