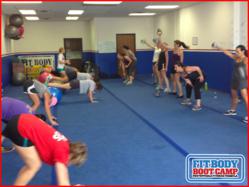 I want to continue to address the needs of my clients and ensure that they are afforded every possible opportunity to get to boot camp and to meet their health, fitness and life goals, says Stephanie Flynn, Owner of Fit Body Boot Camp Tulsa
Tulsa, OK (PRWEB) August 20, 2012
Since moving into its new location on April 30, 2012, Fit Body Boot Camp Tulsa has exceeded its own growth projections while continuing to make a difference in the Tulsa Community. Fit Body Boot Camp Tulsa has grown to approximately 300 clients, and is currently working on plans to grow its size to comfortably handle additional growth.
Owner Stephanie Flynn credits her success to her continued focus and desire to cater to the unique needs of her clients. Fit Body Boot Camp Tulsa's express 30 minute workouts and 72 weekly workout sessions provides clients with the needed options to choose from to accommodate the demands of their hectic schedules. This flexibility, coupled with friendly trainers and a positive energy and culture, are a huge attraction to clients.
"We now offer lunchtime workout sessions, which my clients love," says Flynn. "I want to continue to address the needs of my clients and ensure that they are afforded every possible opportunity to get to boot camp and to meet their health, fitness and life goals."
Fit Body Boot Camp Tulsa's success is in the results of its clients. Flynn has inspired clients to collectively lose over 2,000 lbs. since she initially launched Fit Body Boot Camp Tulsa in April 2011. Many have had life-changing experiences, which include running their first 5K, getting rid of lingering illnesses, and getting new outlooks on their lives.
"My energy level is up. I feel like sometimes I just can't get enough of FBBC," says Fit Body Boot Camp Tulsa client Penny Nicholes. "My health is still good. I've lost 20 lbs. since I started FBBC. I gained the confidence of knowing that nothing is too tough for me."
"People who believe pills, lotions and potions are their answer to weight loss risk being scammed or ripped-off," says Bedros Keuilian, Founder of Fit Body Boot Camp. "Stephanie has the formula for success – delivering fun and inspiring workouts, combined with a positive culture, and on-going nutritional education and support."
One of Flynn's goals in starting a fitness boot camp franchise is to take Tulsa off of Men's Health and Men's Fitness Top 40 Fattest Cities in America Lists. She is a 2009 Bill Phillips' Transformation Champion, and has been featured in various media including Fox TV's Great Day Green Country and Tulsa People magazine.
About Fit Body Boot Camp Tulsa
Fit Body Boot Camp Tulsa is the only women-only indoor boot camp in Tulsa. It is owned and operated by Stephanie Flynn. She has a passion for fitness and nutrition, and for helping people. She is also active in the Tulsa Community. For more information about Fit Body Boot Camp Tulsa, visit http://www.fitbodybootcamp.com/site/Tulsa-fit-body-boot-camp/ or call them at (918) 960-0872.
About Fit Body Boot Camp
Fit Body Boot Camp is one of the fastest growing fitness boot camp franchise companies. Fit Body Boot Camp's Global Goal is to expose and engage twenty of the world's population to a healthy and fit lifestyle by 2020. Fit Body Boot Camp was developed by 2 industry leaders in the fitness industry. Fit Body Boot Camp Owners train hundreds of thousands clients on an annual basis. To find out more about starting a fitness boot camp business, you can contact us at opportunity(at)fitbodybootcamp(dot)com.