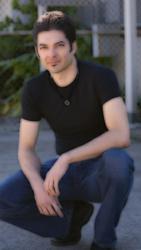 How To Flirt With Women: Best Method Revealed by Dating Guru
San Mateo, CA (PRWEB) August 28, 2012
"The ability to flirt with a girl is a skill that actually helps a guy in every other aspect of his world," Carlos Xuma says in his new report. "Men who know how to flirt with women effectively also instinctively know how to walk up and approach any group. This ability, which is essentially the all-important skill of striking up a conversation, can make a guy's entire social life improve dramatically."
These types of social skills can mean the difference between success and failure in whether he gets the raise he seeks, or whether he is able to negotiate a good deal on a new car, or even whether he can broker million dollar business contracts, Xuma says.
"Much of what men learn that has to do with attracting women can be applied to every other area of the guy's life," Xuma says. "So, essentially learning how to flirt with women with finnesse is going to help the guy improve in general."
One of the tips on how to flirt with women revealed in Xuma's report involves refining the ability to tease someone else.
"Teasing is one of the most effective flirting tools out there," Xuma explains. "But it needs to be done in a precise manner because there is a very fine line between permanent insulting someone and teasing them enough to build attraction and make them like you."
A guy who can tease in just the right way can also break down barriers in a business situation. But, just like in the dating world, one step too far and the teasing will be insulting and all bets are off.
"When men discover how to flirt with women they are also learning how to project self-confidence, which is another key personality trait men need to be successful in every other area of their lives," Xuma says. "A guy can't be an effective flirt unless he has a healthy dose of self-esteem. Likewise, he's not going to broker a big deal for his company without that characteristic."
Carlos Xuma is a household name in the dating advice industry after spending more than a decade teaching men how to attract women. He is the author of The Bad Boy Formula, Secrets of the Alpha Male, the Girlfriend Training Program, and numerous other books and articles. He has also been recognized for his work sharing dating advice for guys and sharing tips on pick up artist techniques, alpha male behavior, how to flirt with women, and how to talk to girls. Xuma has taught hundreds of men how to be successful with women through his website at http://www.attractwomen.com. He has appeared on ABC and CBS television, as well as Playboy radio.
For more information, visit Carlos Xuma's website at http://www.carlosxuma.com