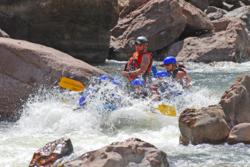 The flows are holding to near normal levels for late August thanks to above average precipitation in the high country this past July
Buena Vista, CO (PRWEB) August 20, 2012
River Runners, a Colorado river outfitter with two whitewater rafting locations on the Arkansas River, has announced it will close for the season on Labor Day (September 3), 2012 with plans to reopen in April 2013.
Peak tourist season is over, but River Runners is still offering daily rafting trips through the Royal Gorge, Bighorn Sheep Canyon and Browns Canyon, according to Travis Hochard, operations manager at River Runners.
"Late August is a wonderful time to go rafting in Colorado," Hochard explained. "The weather is beautiful, the leaves are starting to change and the crowds are all gone."
Hochard said business at River Runners is about 25 percent down compared to last season, which he attributes to a combination of record low snow pack this past winter (resulting in lower than average flows) and Colorado wildfires in June.
"The general perception seemed to be that low flows are not fun and that the entire state was on fire," Hochard said. "The reality is that we have had a great time exploring the Arkansas River this season and we never had any major fires around where we operate."
Current flows on the Arkansas River as of August 20, 2012 are 342 cubic feet per second (cfs) in Brown's Canyon; and 317 cfs in Bighorn Sheep Canyon and the Royal Gorge, which according to Hochard are not too far from normal for this time of year.
"The flows are holding to near normal levels for late August thanks to above average precipitation in the high country this past July," Hochard said. "This should make the final two weeks of the season a great time to raft Colorado's most popular whitewater river."
River Runners is celebrating 40 years of whitewater rafting on the Arkansas River in 2012. Choose from beginner, intermediate or advanced level whitewater on half day, full day or overnight adventures. Call 877-378-1972 or visit http://www.whitewater.net to book your Colorado rafting trip today.