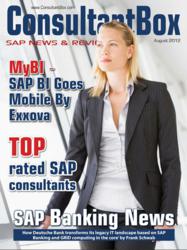 Alpharetta, GA (PRWEB) August 22, 2012
Exxova Worldwide Corp., a Georgia-based business intelligence (BI) solutions provider, announced today that the MyBI Mobile™ solution has been highlighted in the inaugural issue of ConsultantBox - SAP News and Reviews.
"We are thrilled at being highlighted in the inaugural issue of ConsultantBox - SAP News and Reviews. This clearly shows that the mobility push is on." said Mike Mandato, Vice President Sales and Marketing, Exxova. "We talk to many people about mobilizing their SAP Business Intelligence reports and dashboards; this article lays out the real difference MYBI Mobile™ brings to the marketplace."
"We are excited to launch our inaugural issue of ConsultantBox - SAP News and Reviews." states Vips Kirrage, Co-Creator of ConsultantBox, "Mobilization is a topic all our readers are clamoring for. This article really talks about the struggles people are having and how to overcome them."
About MyBI Mobile™
Exxova's MyBI Mobile™ app allows users to instantly access Enterprise wide content at crucial decision points at any location. The app provides business leaders with real-time mission-critical data whether in the boardroom, restaurant or airport terminal. All existing reports (Crystal Reports, Web Intelligence and Xcelsius) are available without need for labor intensive rewriting or re-platforming required of other solutions.
A company's BI content developed over years can now be accessed via iPad, iPhone or Android devices in a transparent, seamless delivery model. Perhaps the most significant feature of the MyBI Mobile™ app is its leveraging of existing security models. MyBI honors existing security strategies, metadata and access paths.
About Exxova
Exxova Worldwide Corporation is a global technology company delivering high quality products and services through innovative solutions, methodologies and tools. With a relentless focus on innovation, Exxova differentiates from the norm and brings unique, creative and flexible ways of accomplishing complicated initiatives. Exxova is a recognized thought leader in business intelligence and also provides solutions in data warehousing and enterprise consulting. Headquartered in Atlanta, Georgia, Exxova has operations in the UK, Singapore, and India
About ConsultantBox
ConsultantBox is a fast growing, global SAP network where SAP consultants are rated and reviewed by the people they have worked for and within the past, people who have had real life experience of working with the consultant they are rating, every SAP consultant can freely build their reputation based on these ratings but only those who have provided a good service to their customers will benefit from doing so. People who join ConsultantBox (CB) are like you - looking to hire SAP professionals who have proven they deliver high quality results or SAP consultants, with a reputation that matches their resume.