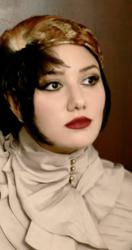 My designs are created for the unafraid. Decisive women who are nonconforming, trend setting and like to stand out in a crowd.
New York, NY (PRWEB) August 23, 2012
New York Fashion Week's EMERGE! Fashion Show will be showcasing, Couture Designer, Arefeh Mansouri's new one of a kind pieces. Ms. Mansouri was selected out of hundreds of the best up and coming designers from all over the world. Only six exceptional talents were chosen for this event to show their Spring 2013 collections.
Furthermore, Ms. Mansouri will have select items for sale in a high end boutique opening this September in Soho, NYC. These exceptional items will be of superb quality and unique design targeted for Manhattan socialites. In addition, Ms. Mansouri recently engineered her limited edition perfume in France, named "La Folie". The scent it has been described as a fresh and youthful with a touch of flowery sophistication. The perfume will be made available both in Soho, NYC and online at http://www.arefehfashion.com
Join Arefeh Fashion's facebook fan page on:
http://www.facebook.com/pages/Arefeh-Fashion/147036818693847
EMERGE! Interviews Costume and Fashion Designer Arefeh Mansouri