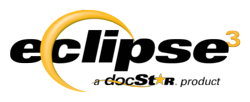 What makes Eclipse3 unique in the market is its combination of robust features, affordability, freedom to deploy in the cloud and the ability to address the needs of mobile users.
Schenectady, NY (PRWEB) August 21, 2012
Ushering in a new era of document management and collaboration, docSTAR today announced its next generation content management solution, Eclipse3. The new platform - built for the web - features an elegant, easy to use design that delivers industry leading performance and universal access from anywhere, at any time, on any browser device.
docSTAR has been providing award winning solutions since 1996. Over 6,000 organizations have benefited from docSTAR's ability to streamline inefficient, document driven processes. "For almost two decades docSTAR has been delivering innovative document management solutions and helping customers optimize their document driven processes. Eclipse3 represents a significant leap forward and we expect customers to achieve even greater productivity gains," said docSTAR President and CEO Tom Franceski. "What makes Eclipse3 unique in the market is its combination of robust features, affordability, freedom to deploy in the cloud and the ability to address the needs of mobile users."
Eclipse3's comprehensive feature set includes: advanced internet access, a sophisticated workflow system, the industry's fastest search engine, embedded document capture (scanners, MFPs, file systems, etc.) for centralized or distributed capture, high performance automated document processing, "on the fly" high speed OCR, automated records management, native support for MS Office document viewing, and secure email distribution and link options.
Accessible via all major browsers and mobile devices such as iPhones, iPads, Androids and other smart phone or tablet web browsers, the new platform also offers increased scalability, allowing docSTAR to solve the document management and content productivity needs of any size organization with any number of users regardless of their process challenge or document volume.
"The design of Eclipse3 is focused in two primary areas: speed and elegance. Users will instantly be "wowed" by how fast Eclipse3 operates. The speed at which Eclipse finds and displays documents is impressive," explained channel business partner Ken Kingery of Mosaic in Norcross, GA. "Another important speed attribute is how fast users learn the product. The interface is very intuitive," continues Ken. "People will love the way it looks and performs on the iPad."
"Eclipse3 continues our proud tradition of providing high-quality, affordable, feature-rich document management and content productivity solutions for industries including manufacturing, insurance, financial services, healthcare, legal and government," said Franceski.
The product's local language feature will make the application appealing to the global marketplace beginning with North America, South America, and Europe, with plans to add more languages in the future.
About docSTAR
docSTAR™, founded in 1996, is an innovative software company that provides collaborative document management solutions to streamline business processes for organizations of any size. Their leading document management software, available either on-premise or hosted in the cloud, allows enterprises to gain control over documents, improve retention and increase efficiency. docSTAR integrates with almost any third party business application to improve effectiveness with core systems. Customer satisfaction is of the utmost importance and the company's customer support organization is consistently recognized for its quality and responsive level of service. Over 6,000 organizations depend on docSTAR from every industry including insurance, financial services, healthcare, real estate, manufacturing, legal, non-profit, education and the public sector. For additional information, please visit http://www.docstar.com.