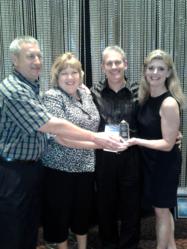 Columbia, MO (PRWEB) August 30, 2012
Landmark Investments' team of investment executives were recently honored with a President's Award by PrimeVest, one of the nation's largest broker-dealers dedicated to serving financial institutions, at PrimeVest's national Connect conference held in Orlando, Florida. Categorizing institutions by asset size, PrimeVest recognized the Landmark Investments program for achieving top sales for 2011 in their peer group.
"This is the first year we've been recognized in our category for total sales," said DeAnn Peter, Landmark Investments program manager. "The recognition shows the faith our clients have put in us, and the strength of our team to accomplish our customers' financial goals."
Landmark Investments utilizes a staff of seven financial advisors and four sales assistants and has helped clients meet their financial goals as a PrimeVest program since 1997.
In addition to the team's achievement for 2011, the Landmark Investments program has a strong start to 2012 with individual performance year-to-date through July 31, 2012. Dave Reed, based in the Denison, Texas Landmark Bank office, is ranked in the top 10 financial advisors on the PrimeVest Sales Leaderboard out of more than 1,000 PrimeVest advisors in the nation. Leah Anne Brooks, based at the Durant, Oklahoma Landmark Bank office, is ranked in the top 100 advisers, and DeAnn Peter and Jackie Shupe in Columbia, Mo. and Miles James in Houston, Mo. are in the top 200.
For more information on Landmark Investments, visit http://www.landmarkbank.com/investments. The Landmark Investments program is headquartered at Landmark Bank's Columbia, Mo. office, but serves customers throughout Landmark Bank locations in 27 communities across Missouri, Oklahoma and Texas.
PrimeVest is a member of the Depository Trust and Clearing Corporation, the Securities Investors Protection Corporation, and the Financial Industry Regulation Authority. For more information, visit primevest.com. Securities, insurance products, and advisory services offered by PrimeVest Financial Services are not FDIC insured and may lose value. Investments are not financial institution guaranteed, not a deposit and not insured by any federal agency. PrimeVest is not affiliated with the financial institution where investment services are offered.
About Landmark Bank
Headquartered in Columbia, Mo., Landmark Bank is a community bank with $1.6 billion in assets and 40 locations in 27 communities across Missouri, Oklahoma and Texas. For more information, visit http://www.landmarkbank.com or call (800) 618-5503.