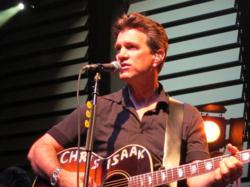 Cincinnati, OH (PRWEB) August 21, 2012
Yes, after more than a quarter of a century into his career, Chris Isaak has finally created the album he's always wanted to make. Beyond the Sun, Isaak's first Vanguard Records release is truly a labor of love.
Reserved tickets, $59.50, $47.50, $34.50 & $29.50 (plus applicable fees), go on sale this Friday August 24 at 10 AM at http://www.ticketmaster.com, http://www.tafttheatre.org, the Taft Theatre Box Office and all Ticketmaster outlets including select Kroger stores. Charge by phone at 1.800.745.3000.
As a child spinning his parents 45s in their Stockton, California home, this deeply committed artist has been obsessed with the glory days of Memphis' Sun Studio and the visionary artists who got their starts there—including Elvis Presley, Johnny Cash, Roy Orbison, Carl Perkins and Jerry Lee Lewis—all of them discovered and nurtured by the late, great Sun Records founder Sam Phillips. Now, at long last, Isaak has acted on this lifelong obsession, magically recapturing the transformative hepcat brilliance of the classic sides cut by these greats at Sun with Phillips during the mid-'50s, while also getting down to the heart and soul of his own deeply rooted musical identity. Beyond the Sun will be available in both the 14-song standard set as well as a double album version that includes an additional 11 tracks.
"I did this because I love this music—that's the entire reason," Isaak explains, advising, "you gotta listen to the original ones—they're classics – they're awesome but you can have fun with them. These guys discovered this music for us and we had to rediscover it. There's no way to do it exactly like they did it, so you've gotta give a little bit of your own take on it."
Considering how unmistakably Isaak's own music has been inspired by that of the Sun greats, particularly Presley and Orbison, the obvious question is, what took him so long? "When I started making music, I thought that if I do those songs, where do I go from there?" he says. "I wanted to make sure I found my own sound and established who I was. But I always loved that music and I wrote songs in that spirit. You can go through all my songs and you won't find one reference to goin' to the bop. They're about my life, not about nostalgia for the '50s. I came to a point where I felt like the time was right to do this record. I'd met all my heroes and worked with most of them, and I didn't hear anybody else doing it the way I wanted to do it."
Elvis is heavily represented on this handpicked collection, with "Trying to Get to You." "I Forgot to Remember to Forget", "Can't Help Falling in Love", "How's the World Treating You", "It's Now or Never", "She's Not You" and "My Happiness" – the first song Elvis ever recorded. Isaak opens the set with Cash's "Ring of Fire", and later offers his take on "I Walk the Line." He wails his way through Jerry Lee's "Great Balls of Fire", revisits Orbison's "So Long I'm Gone", and heats up Perkins' "Dixie Fried." The standard set is rounded out by a blistering rendition of "Miss Pearl" by the nearly forgotten Sun artist Jimmy Wages. The second disc, which starts out with the one-two punch of Presley's "My Baby Left Me" and Orbison's "Pretty Woman", also contains the treasure "Everybody's In The Mood" by Howlin' Wolf. Clearly, this guy knows the Sun catalog inside out.
Isaak's longstanding desire to musically salute his inspirations was intensified when at the end of the very same Oxford American article the interviewer asked Sam what new artists he listened to…His response blew Chris away. "I don't keep up with the business like I used to," said Phillips, "but I love to listen to Chris Isaak. He's very talented, and his music is so damned honest. It's incredible". "I fell out of my chair when he said that. I had no idea he even knew who I was," said Chris. "It just felt like all that music that I had grown up listening to had all come full circle…I think it meant more to me than any gold record or award I ever received because Sam Phillips was really the thread that connected all that music that I had been loving all my life."
That pretty much sealed the deal for this fervent Sun worshiper. Chris noted, "We called the record Beyond the Sun because the music starts at Sun Studio and just keeps growing and going. I think Mr. Phillips would have understood."