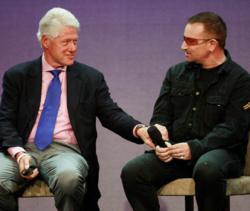 With the political landscape being in such a state of upheaval as it is currently, we wanted to inject a little bit of light fun into the mix
San Francisco, CA (PRWEB) August 22, 2012
Ties-Necktie.com, a well-known online retailer of men's ties and accessories, today published an article announcing the five worst-dressed presidents of all time. Fashion blogger and tie aficionado, Hendrik Pohl, names Jimmy Carter, George W. Bush, Bill Clinton, Ronald Reagan, and Gerald Ford the worst dressed American Presidents of all time.
"With the political landscape being in such a state of upheaval as it is currently, we wanted to inject a little bit of light fun into the mix in hopes of possibly opening up communication once again," says Ties-Necktie.com founder Hendrik Pohl. "That being said, we feel as if fashion and style actually serve an extremely important role in the politics of today, and should not be ignored. These articles are all about highlighting what presidents - past and present - have done right, as well as what they've done wrong."
The series will consist of five articles, each of which highlights one individual in order to analyze aspects of their style that didn't work for them. Gerald Ford is highlighted for his plaid suits and excessively wide ties, with George W. Bush making the list as a result of the poor choices he made regarding vacation attire. Also part of the series are Ronald Reagan, Jimmy Carter and Bill Clinton.
"We're not trying to say that some of these men weren't great presidents," says Pohl," but simply that each and every one of them ran into a series of issues regarding how they dressed. A lot of people think Reagan was a good dresser, for example, but even he had a few quirks that didn't add up for him. Regardless, we made sure to keep the tone in these pieces as light and airy as possible, because we're not trying to offend anyone."
While each piece highlights at least two aspects of what might be considered poor fashion choices, they also all end up with a section called "Takeaways for the Modern Man," in order to further highlight ways to stay away from making the same mistakes.
"Our readers don't want to make any decisions regarding their fashion that might make them look unattractive," says Pohl. "The 'Takeaways for the Modern Man' section aims to keep that from happening. We've been including it at the end of most of our article series pieces lately, and it's gotten a lot of great feedback from readers."
Looking at fashion in politics is nothing new for this online fashion blog. In the past, the blog has looked at why Politicians wear red ties more often than any other color, discussed who the best tie wearers and in congress, and has also compared the style choices of different presidential candidates.