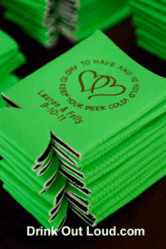 Facebook and Social Media has helped us grow our business.
Raleigh, NC (PRWEB) August 22, 2012
Drink Out Loud, a leader in the print and distribution of KOOZIE® can cooler industry, announces their company's highest sales month ever. Sales in July of 2012 exceeded all sales months in their 13 year business life.
Drink Out Loud attributes their record month to a number of reasons.
1. Turnaround in the economy. The economy seems to be on the rise with consumers having more spending power.
2. Utilitization of Social Media websites. The Drink Out Loud fan page has grown, and offers such as "Like us for a $10.00" coupon have made them quite popular. Their twitter account @koozies generates interest and communication.
3. Rebuild of shopping cart on website. Drink Out Loud undertook a 6 month rebuild of their extremely consumer oriented shopping cart which has helped customers make decisions more easily.
4. Release of new products. Drink Out Loud added 7 new products to their expanding line up. All designed to keep drinks cool and be enjoyed by customers.
5. Returning customers. Through interaction with customers, quality products and great customer service, repeat customers are a continual part of the day to day business.
Drink Out Loud is one of the foremost internet providers of insulated beverage containers. These are used for a number of different occasions. Can coolers are used as party favors and are particularly popular for weddings, birthday parties, class and family reunions and are used quite often by businesses as a give away item.
Drink Out Loud provides 20 different styles to choose from. The two main categories are collapsible and foam. Collapsible can coolers are foldable and are primarily used for mailings, or easy transport. Foam can coolers are the best insulators and are sturdy and stackable.
Drink Out Loud provides 100's of free great designs for parties and events. Some of their most popular are "to have and to hold and to keep your drink cold" and "a wedding without any buzz is a wedding that never was". Customers are also able to upload their own graphics.
Whether it is the economy, Social Media, Facebook, Twitter, a new cart, new products or great service, Drink Out Loud is happy to be forging ahead in this economy.
If you are not sure what these can coolers are called, Remember, it's not koosie, koosies, koosey, kooseys, cozy, coozys, coozey, coozeys, coozie, cozies, coosy, coosys, coosie, coosies, coozey, coozeys, cozy, cozys, cozie or cozies … it's a KOOZIEs®.
###
Drink Out Loud was founded in 1999 in the spare bedroom of the owners house. Drink Out Loud now prints can coolers in a 5000 square foot building, servicing over 6,000 customers annually. Drink Out Loud can be found at http://www.drinkoutloud.com or email us at nancy@drinkoutloud.com Find us on Facebook at https://www.facebook.com/pages/Drink-Out-Loud-Personalized-Koozies-for-all-weddings-reunions-events/156318191045286