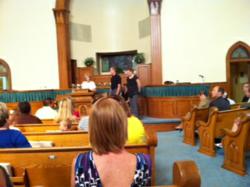 A healthy smile is important to the graduates. They work very hard to complete the program, so it is my pleasure to be a positive impact on their lives
Marietta, GA (PRWEB) August 22, 2012
The Cobb County event was hosted by the First Baptist Church of Marietta and targeted chemically dependent parents who have young children or who are pregnant. The church was packed with the 42 graduates, their families, and the many people in the community who helped along the way. Chief Justice Carol W. Hunstein of the Georgia Supreme Court spoke, giving accolades and encouragement to those who successfully completed the program. The mission group Reconnecting Families was recognized for providing the life necessities to participants. An awarded federal grant helped to make the program possible.
Judge Stedman and her drug court team presented Drs. Kimmerling, Krempa, and Aguilera, cosmetic dentists in Marietta, GA, a plaque to commemorate their dedication to the success of the graduates. She said the dentists had donated much time and effort so that graduates could have the smile they need to seek employment and have a more successful start. "A healthy smile is important to the graduates. They work very hard to complete the program, so it is my pleasure to be a positive impact on their lives," says Dr. Kimmerling. "I have enjoyed seeing their success."
Kirk Kimmerling, DDS, Alex Krempa, DMD and Suzanna Aquilera, DMD are cosmetic dentists in Marietta, GA that are literally paving the way for the future of dentistry. The office is technologically sophisticated in not only equipment and procedures, but also developing dental materials via Kimmerling Holdings Group, LLC and fiteBac SkinCare, LLC, Dr. Kimmerling's biotechnology firms. The office maintains 13 operatories, each of which is equipped with a display monitor on which digital x-rays and intra-oral pictures can be examined, and patient education videos can be viewed. The office also employs highly advanced technologies, including: (1) Logicon, a program that can digitally measure the extent of tooth decay, which allows detection of 20% more cavities and helps prevent misdiagnosis; (2) "Collimators," a conduction of x-ray tube heads that decrease radiation exposure to the patients and staff by 5-fold; and (3) iTero, an advanced restoration impression system and digital scanner that produces more accurate restorations than traditional methods. The overall well-being of each patient can also be improved by adding a DNA salivary test, which allows the office professionals to better determine a patient's specific risk of periodontal disease as well as certain types of oral cancer. The office is the first to use fiteBac SkinCare Germicidal Hand Softening Gel, an advanced alcohol free hand sanitizer without the harshness to skin from traditional alcohol-based antibacterial gel. Drs. Kimmerling, Krempa and Aguilera invite new patients to meet their exceptional staff and experience and benefit from state of the art dental care.