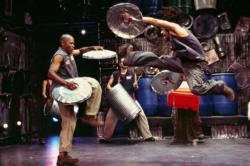 STOMP is as crisp and exuberant as if it had opened yesterday!
Worcester, MA (PRWEB) August 23, 2012
STOMP, the international sensation, is making its triumphant return to The Hanover Theatre for the Performing Arts in Worcester for three performances; Saturday, May 4 at 4pm & 8pm and Sunday, May 5 at 2pm. Generously sponsored by Polar Beverages, the return of the percussive hit brings along some new surprises with some sections of the show now updated and restructured. New additions, including two new full-scale routines utilizing props like tractor tire inner tubes and paint cans keep the elements of STOMP fresh and true to its originality.
The changes that can now be seen in the tour of STOMP are the biggest since the late 1990's. A new piece "Paint Cans" evolved out of the "Boxes" routine in the Las Vegas show and "Donuts" is a piece that implements huge tractor tire inner tubes, worn around the waist on a bungee cord.
STOMP, an overwhelming success marked by rave reviews, numerous awards and sell-out engagements, is the winner of an Olivier Award for Best Choreography (London's Tony Award), a New YorkObie Award, a Drama Desk Award for Unique Theatre Experience, and a Special Citation from Best Plays. The young performers "make a rhythm out of anything we can get our hands on that makes a sound," says co-creator/director Luke Cresswell. Stiff-bristle brooms become a sweeping orchestra; Zippo lighters flip open and closed to create a fiery fugue; wooden poles thump and clack in a rhythmic explosion. STOMP uses everything but conventional percussion instruments – trashcans, tea chests, plastic bags, plungers, boots, and hubcaps – to fill the stage with compelling and infectious rhythms.
Critics and audiences have raved, "STOMP is as crisp and exuberant as if it had opened yesterday," says The New York Times. The San Francisco Chronicle declares, "STOMP has a beat that just won't quit!" The Los Angeles Times exclaims, "Electrifying! Triumphs in the infinite variety of the human experience." "A phenomenal show! Bashing, crashing, smashing, swishing, banging and kicking – a joyous invention!" says the Chicago Tribune.
Ticket prices are $22, $32, $42 and $52 with a 10% discount available for members of The Hanover Theatre, groups of 10 or more, kids, students and WOO Card holders. Tickets are available online at TheHanoverTheatre.org, by phone at 877.571.SHOW (7469) or at The Hanover Theatre Box Office located at 2 Southbridge Street in downtown Worcester.
Subscribe to the 2012-13 six-show Broadway Series Subscription Package by August 27, including MARY POPPINS, WEST SIDE STORY, EXPERIENCE THE BEATLES WITH RAIN, LES MISÉRABLES and THE ADDAMS FAMILY, and save an additional 15% on CHICAGO, DISNEY'S BEAUTY AND THE BEAST, SANDY HACKETT'S RAT PACK, LORD OF THE DANCE and STOMP. Subscribers can also take advantage of a Basic Membership to The Hanover Theatre, a complimentary parking pass, and a variety of benefits from cultural partners, restaurants and other businesses throughout Worcester County.
About The Hanover Theatre
The Hanover Theatre for the Performing Arts, located in downtown Worcester, New England's second largest city, is recognized by Pollstar as one of the Top 50 Theatres in the World. After undergoing many name changes and renovations over the decades since its 1926 birth, The Hanover Theatre reopened in March 2008 following a $32 million historic restoration. Since then, the theatre has established its place as a rich entertainment and cultural venue, winning numerous awards, including The National Trust for Historic Preservation Award in 2010. Now in its fifth season, The Hanover Theatre continues to expose over 170,000 annual patrons to world-class entertainment in the form of Broadway, concerts, comedians and much more. For more information, visit TheHanoverTheatre.org. Worcester Center for the Performing Arts, a registered not-for-profit 501(c)(3) organization, owns and operates The Hanover Theatre for the Performing Arts. All donations are tax deductible to the fullest extent allowed by law.
About Polar Beverages
Polar Beverages is the largest privately-owned, soft-drink bottler in the United States. The company traces its history to 1882 and has a long established reputation for quality, strong customer relationships and brand loyalty. Polar's business segments include the company's flagship Polar brand, franchise national brands, new-age brands and private-label brands. For more information on our unique company history and products, please visit us at polarbeverages.com or find and follow us at facebook.com/polarbeverages.