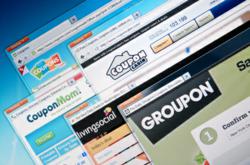 Daily deal sites are a double-edged sword, and unless they are structured properly, they're likely to produce more harm than good
(PRWEB) August 21, 2012
As daily deal sites continue to make news, more small business owners are wondering if these types of sites are a good investment for their business in today's economy. On August 20, 2012, marketing expert and CEO of PredictableProfits.com, Charles Gaudet, publicly stated on his website, "Daily deal sites are a double-edged sword, and unless they are structured properly, they're likely to produce more harm than good."
"It's important to realize that the daily deal customer purchased a coupon for your business based upon the price of the product, not because they have an intention to continue doing business with you. Once the daily deal customer redeems the coupon, it's now the business owner's job to convert them into a repeat purchaser and a lifetime buyer," says Gaudet.
According to a survey conducted on June 25, 2012 by Utpal Dholakia, a professor of management at Rice University's Jones Graduate School of Business, only 20% of deal users become repeat buyers, with higher success rates found among photographers, education services, health and fitness services, tourism-related services, and doctors and dentists, while cleaning services, retailers, restaurants and bars performed less profitably.
Gaudet suggests small business owners interested using daily deal sites to consider the following 4 tips:

Make Sure Daily Site Customers Are the Right Customers – many daily deal sites will be able to provide demographic information. Before doing a promotion, make sure the demographic matches the small business's target customer base.
Prepare for a New Customer Surge – reports have indicated many new businesses struggle with meeting the needs of a huge influx of new customers seeking to redeem their coupons, putting pressures on the existing businesses infrastructure, operations, and often displeasing existing customers.
Track the Results – it's imperative to understand the impact of the daily deal site on the business. This includes the cost of the promotion, the total customer expenditure, the net profits, and any repeat purchases.
Utilize Follow-Up Marketing – in order to get the best response, offer each daily deal customer an incentive to come back and make a repeat purchase, such as an additional coupon, special sale, bundled packages, or preferred customer pricing.
"Daily deal sites represent just one of many marketing opportunities available to small business owners. And while this tool is known to be effective for many small businesses, it does not guarantee success in all businesses. As with all marketing: test small, measure its performance, and look for ways to improve."
For more information on how entrepreneurs can use marketing to maximize their profits and obtain a competitive edge, please visit http://www.PredictableProfits.com.
ABOUT CHARLES GAUDET:
Gaudet started his first business at age 4, and has been an entrepreneur ever since. Upon graduating from college, he founded a company nominated as "One of the Nation's Best Seed-Stage Companies" by Ernst & Young, subsequently selected by VentureOne. At 24, he founded a real estate development company. Abruptly finding himself in millions of dollars of debt, he systematically grew his first multi-million dollar business. Since that time, Gaudet has traveled much of the world studying from business, political, and social leaders studying entrepreneurial, marketing, and business excellence.
He is widely regarded as a marketing expert for consistently delivering windfalls of profits to his small business clientele, unveiling opportunities that have been previously under-utilized or have gone unnoticed.
He is the founder of PredictableProfits.com, the originator of the Predictable Profits (TM) methodology, the creator of the Predictable Profits Insiders' Club, and the author of the popular blog at http://www.PredictableProfits.com/blog.
ABOUT PREDICTABLE PROFITS:
Predictable Profits is a leading small business marketing company and a division of Managed Marketing, LLC. The company specializes in finding overlooked marketing opportunities commonly found in most small-to-medium sized businesses, and creates actionable marketing strategies for maximizing a company's profits by increasing both marketing productivity and leverage. You can read more about Predictable Profits by visiting the company's website at http://www.PredictableProfits.com.