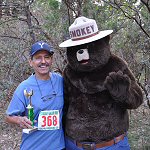 This year's proceeds will benefit Cal Fire and the United States Forest Service (USFS) Fire Prevention Programs, Madera County Sheriff Explorer's Post 104, Madera County Search & Rescue and the Yosemite High School (YHS) Cross Country Teams
Bass Lake, CA (PRWEB) August 20, 2012
For this year's race, Chairman Sheriff John Anderson invites all runners and walkers to join in the celebration of the 25th Smokey Bear Run / Walk. The event will be held at beautiful Bass Lake, California on Saturday, September 22, 2012.
This year's proceeds will benefit Cal Fire and the United States Forest Service (USFS) Fire Prevention Programs, Madera County Sheriff Explorer's Post 104, Madera County Search & Rescue and the Yosemite High School (YHS) Cross Country Teams.
The first Smokey Bear Run was held on May 17, 1986, at the Pines Resort - Bass Lake, California. The original organizers were four USFS employees; Brian Curtis, Danny Jones, Patrick Lyng and Craig Pinkerton. The event was to promote fire safety and awareness with the help of Smokey Bear. We hope to honor these individuals at this year's event.
Races are for the entire family to come out and enjoy. The Smokey Bear Run / Walk is a 20 point "Valley Runner of the Year Series" race. The adult entry fee is $20 for pre-registration or $25 on race day. The kids' entry fee is $7 for pre-registration or $10 on race day.
Races to take place at Recreation Point/Bass Lake
Location: 39900 Road 222, Bass Lake, California 93604
Road 222 closes to all vehicles from 7:15 a.m. to 9:40 a.m.
Registration from: 6:45 a.m. to 7:45 a.m. First race to begin promptly at 7:45 a.m.
7:45 a.m.-Kids Run ½ mile (Ages 9-12)
7:55 a.m.-Kids Run ¼ mile (Ages 5-8)
8:05 a.m.-Kids Run 1/8 mile (Ages 2-4)
8:15 a.m.-2 mile Run / Walk
8:30 a.m.-10k Run (No walkers)
Wheelchairs will start one minute ahead of runners.
For more information and registration forms log onto the website at http://www.smokeybearrun.com or call: 559-683-1770
Online registration: http://www.Active.com
Mailing Address:
Mountain Area Runners
PO Box 1183 Oakhurst, CA 93644
Email: info(at)smokeybearrun(dot)com