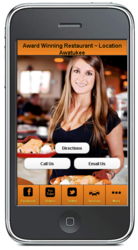 Maricopa, AZ (PRWEB) August 22, 2012
It is now possible for the small business owners to benefit from the unlimited branding potential of mobile applications. Well known iPhone and Android app developer i-SocialApps.com is now offering a wide spectrum of low cost branding support Smartphone applications for them. Many real estate businesses have already received excellent results from custom made branding apps from i-SocialApps.com. With a business presence spanning more than three decades, the company specializes in simplifying the concept of virtual services to help businesses connect and interact effectively with customers. The company also offers top of the line branding apps for bars and clubs. The special priced iPhone and Android applications from them are now available for a one time payment of only $897 and $697 respectively.
Recent advances in mobile technology have completely changed the way business branding is done nowadays. Use of mobile applications is no longer limited within recreational applications. Advent of mobile apps for business has made branding easy and affordable, even for the auto repair shops. These small businesses can now compete with the big boys very easily by gaining instant recognition in their local area with consumers of their services. With the push notification feature of these applications, it becomes amazingly easy for restaurants, to convey special promotional offers to the target market in a timely manner without creating an extensive marketing campaign. Unlike conventional promotion, instant response is also received from customers.
Use of mobile applications can now be the difference between success and failure of these small businesses. Depending on the specific business requirements, i-SocialApps.com develops their mobile applications taking all market driven conditions into consideration. Talking about the increasing importance of this promotional platform, the founder and CEO of i-SocialApps.com Roy White states, "We are glad to offer App Branding for small businesses. We've put a lot of research into it to ensure it meets and exceed industry standards to give your customers the power to quickly respond to special offers or announcements through your Branded Mobile App. It's your permit to blasting competitor(s) out of the water! If you are simply looking for ways to increase your monthly revenue, look no further. We've done all the hard work, so you don't have to."
About the Company:
i-SocialApps.com is one of the most preferred mobile application developers in the country for business users. The company offers top of the line business branding apps to address specific branding requirements for industries like real estate, entertainment, hospitality, auto service and many more. Their affordable range of branding applications is now available for a special, limited period price of $697, and $897 respectively, for Android and iPhone Apps.
Contact:
i-SocialApps.com
Founder & CEO: Roy S. White
Website: http://i-socialapps.com/
Email: rw(at)i-socialapps(dot)com